UN envoy in Damascus to push for peace plan with Syrian officials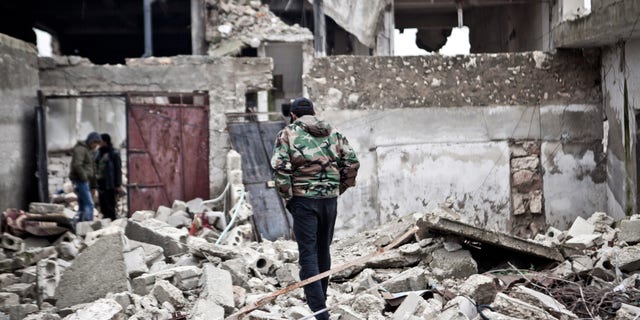 BEIRUT – The international envoy tasked with ending Syria's civil war hoped to discuss ways of ending the crisis during a visit to Damascus that began Sunday, officials said, but there appeared little reason for optimism.
Lakhdar Brahimi, who represents the United Nations and the Arab League, has made little apparent progress toward brokering an end to Syria's civil war since he assumed his post in September, mostly because neither side appears interested in talks.
The security situation inside Syria has deteriorated in the meantime, with rebel forces expanding their control in the north and near the capital and storming a number of army bases, making off with valuable weapons.
Brahimi's trip, his third to Damascus since taking his post, appeared troubled from the start.
Instead of flying directly to Syria as he has on previous visits, Brahimi landed in Beirut and traveled to the Syrian capital by land because of fighting near the Damascus airport, Lebanese officials said.
Brahimi did not speak publically upon his arrival in Damascus.
The Lebanese officials, who spoke on condition of anonymity because they were not authorized to brief reporters, said Brahimi was expected to meet Syria's foreign minister later Sunday and President Bashar Assad on Monday.
It is unclear what new ideas Brahimi could present to make progress toward a peace deal.
In a lengthy Sunday news conference, Syrian Information Minister Omran al-Zoubi repeated the Syrian government's line that it is fighting terrorist groups backed by foreign powers who seek to destroy Syria.
Al-Zoubi said the government was willing to engage in dialogue but said the other side wasn't.
"We speak of dialogue with those who believe in national dialogue," he said. "But those who rejected dialogue in their statements and called for arms and use of weapons, that's a different issue. They don't want dialogue."
Rebel groups refuse to talk to Assad, demanding that he step down instead.
Al-Zoubi equated the rebels with al-Qaida and denied that they had taken over any territory.
"They are not able to attack even a military checkpoint and remain in it for 15 minutes," he said. He also said the opposition does not provide citizens with services as the Syrian government does.
While rebel forces do often withdraw from government sites after storming them to avoid being targeted by airstrikes, large areas of north Syria and parts of the Damascus suburbs are effectively held by rebels, and local councils try to run bakeries and provide services like water and electricity.
And although one of the most effective rebel groups, Jabhat al-Nusra, has been branded a terrorist organization by the U.S. and is affiliated with al-Qaida, its fighters are a minority of those fighting to topple Assad.
Violence continued around the country on Sunday. Anti-regime activists reported government airstrikes on suburbs east of the capital and the northern province of Aleppo.
Airstrikes on the town of al-Safira, south of Aleppo, killed 13 women and children, including a mother and five daughters from one family, a local activist named Hussein said via Skype. He gave only his first name for fear of retribution.
The town lies next to a large military complex with factories and artillery and air defense bases. Hussein guessed the airstrike was payback for recent rebel attacks on the complex.
"The strikes don't hit the fighters at all," he said. "They want to take revenge on the civilians."
Videos posted online showed a swath of simple concrete homes reduced to rubble. In one video, a man pulls a young boy from the rubble, clutches him to his chest and rushes away wailing.
The videos appeared authentic and corresponded to other AP reporting.
The Britain-based Syrian Observatory for Human Rights said at least 12 people died in the strike.
The group, which relies on a network of contacts inside Syria, also said at least 10 rebels and an unknown number of government troops were killed in clashes in Afreen, near Aleppo, Syria's largest city, as rebels sought to storm an army base there.
Anti-regime activists say more than 40,000 people have been killed since Syria's crisis began in March 2011.
___
Associated Press writer Albert Aji contributed reporting from Damascus, Syria.