UN decries death of 2 journalists in Somalia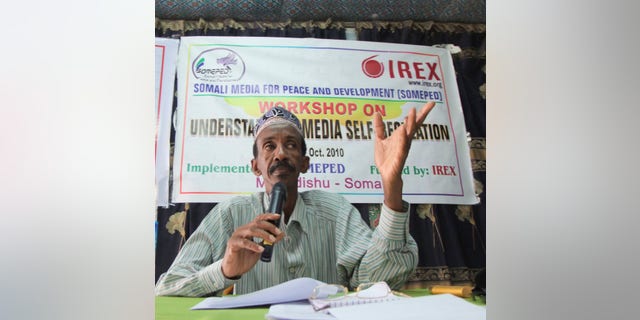 Two more Somali journalists were killed in the nation's capital, bringing the number of journalists slain in the country this year to nine and highlighting the dangers media workers continue to face in the Horn of Africa nation despite increased security in Mogadishu.
U.N. and African Union officials on Monday decried the deaths and demanded that the Somali government put a stop to the killings. None of the people involved in the nine media workers deaths this year have been prosecuted.
"The Somali authorities must institute investigations into these killings with a view to bringing the perpetrators of these heinous crimes to justice," said a top African Union official, Boubacar Diarra. The African Union military force "is ready to provide any assistance it can to help with such investigations," he added.
A man dressed in a high school uniform shot and killed Yusuf Ali Osman, a veteran reporter who has been serving as the director of Somalia's Information Ministry, said Bashir Khalif Ghani, an editor with the state-run Radio Mogadishu. Osman was killed near his home while on his way to work, he said. The attacker fled the scene.
A second Somali journalist was killed Sunday after government troops opened fire on each other at a sports stadium. The audience fled in panic. A stray bullet struck and killed Mohamud Ali Yare, said Abdirashi Abikar, a journalist colleague.
"He died after several bullets struck him. It was a shocking killing," Abikar said.
Somalia and Syria have been the two most dangerous countries this year for journalists. In Somalia, the killings of media workers often happen in the government-controlled areas that journalists often consider to be safe.
Despite government's promises of prosecution of perpetrators for media workers killings, yet criminals walk freely without facing justice.
"We were appalled by the murder of Mr. Osman. It was a brutal killing and we condemn it," Abdiqadir Hussein Mohamed, Somalia's information minister, said in a statement. "He was a veteran and diligent director who helped Somalia through difficult years."
The U.N. representative to Somalia, Augustine Mahiga, condemned the killings and underscored the fact that no attackers of any journalists in Somalia have been arrested for trial.
"I send my deepest condolences to their families and to all Somali media professionals, who for too long have seen their colleagues targeted, injured and assassinated without a single perpetrator being brought to justice," Mahiga said.
Mahiga said that the U.N. has repeatedly called for full and independent investigations into what he called "unacceptable and cowardly acts."
"This culture of impunity must end. We must not allow the fundamental freedoms that a free press represents to be compromised by those willing to use violence to serve their personal agendas. This is a decisive time in the political process and the work of media needs to be protected so that the Somali people are fully informed," Mahiga said.
It's not clear who has been carrying out the killings of journalists. Al-Shabab militants, warlords, criminals, and even government agents all could have reasons to see journalists killed in Somalia, one of the most corrupt and dangerous countries in the world.