UN chief sees 'historic opportunity' for Cyprus breakthrough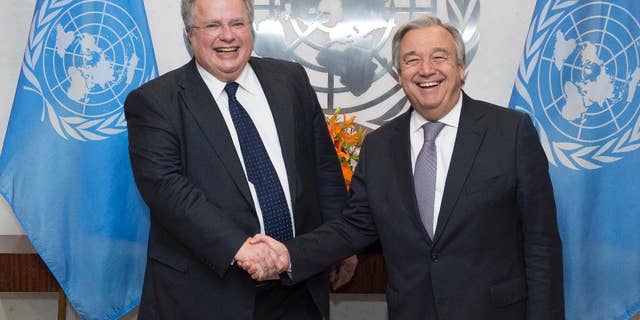 UNITED NATIONS – Secretary-General Antonio Guterres believes there is "a historic opportunity" for a breakthrough in upcoming negotiations that would reunite the divided Mediterranean island of Cyprus after more than four decades, the United Nations said Friday.
The new U.N. chief will be opening and chairing a conference that starts Jan. 12 with the Greek and Turkish Cypriot leaders and Cyprus' three guarantors — Britain, Greece and Turkey — that will be seeking agreement on post-settlement security arrangements, U.N. spokesman Stephane Dujarric said.
The Geneva conference will follow three days of talks between the island's Greek Cypriot president, Nicos Anastasiades, and breakaway Turkish Cypriot leader Mustafa Akinci starting Jan. 9 to try to reach a settlement.
"We're at a very decisive phase in the Cyprus peace talks," Dujarric said. "At this point it's really about being supportive of the process and seeing how the parties can finally bridge the final gaps."
The island was split into a Greek Cypriot south and a Turkish Cypriot north in 1974 when Turkey invaded after a coup by Cypriot supporters of union with Greece. Turkish Cypriots declared an independent state in 1983, but only Turkey recognizes it and keeps 35,000 troops there. While the island joined the European Union in 2004, only the internationally recognized Greek-speaking south enjoys full membership benefits.
Guterres met Thursday with Turkey's Foreign Minister Mevlut Cavusoglu and late Friday afternoon with Greek Foreign Minister Nikos Kotzias.
Kotzias called it a "very nice" meeting but refused to comment on the Cyprus talks.
Dujarric said Guterres "expressed his appreciation for Greece's continued support to the Cyprus talks and commitment to a comprehensive settlement of the issue."
"He recognized the historic moment for Cyprus" presented by the conference starting Jan. 12 and "lauded the unprecedented progress made by the leaders of the Greek Cypriot and Turkish Cypriot communities," Dujarric said.
The secretary-general "appealed to all parties to use this opportunity to find creative and mutually acceptable solutions that address the concerns of both communities," Dujarric said.
Earlier, Dujarric said that Gutteres emphasized "the historic opportunity" in his meeting with and "underlined the need for mutually acceptable solutions that address the concerns of both communities."
He said the secretary-general also "expressed hope that all parties would demonstrate the necessary creativity in seeking innovative solutions."
The two sides have been trying to strike an accord for decades, with U.N. support.
Cavusoglu told reporters Thursday he is "more optimistic than ever" that an agreement can be reached, but stressed that there are still "serious issues" regarding territory, the map, security and guarantees.
The summit is seen as the apex of 19 months of talks between the two leaders that have produced significant progress on how an envisioned federation will function after an accord is approved in separate votes on both sides of the island.
___
Associated Press Writer Menelaos Hadjicostic contributed to this report from Nicosia, Cyprus.