UN calls for talks to end violence in Syria as Ban Ki-Moon links Al Qaeda to attacks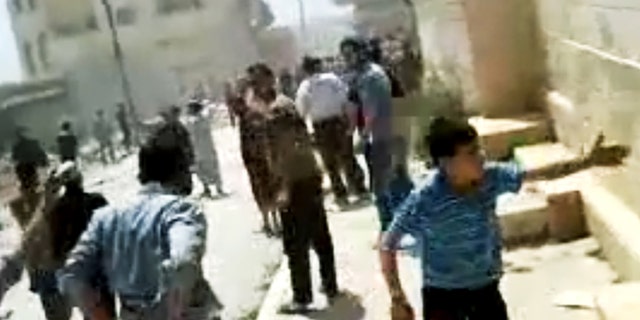 DAMASCUS, Syria – The head of a U.N. observer team in Syria cautioned Friday that the mission cannot achieve a permanent end to the violence without genuine talks between the two sides that have been locked in a violent conflict for more than a year.
Maj. Gen. Robert Mood, the Norwegian head of the 200-strong observer team, spoke as government forces pounded a rebel-held town north of the central city of Homs with artillery shells and rockets, according to Syrian opposition groups.
Mood warned that no number of observers can achieve "a permanent end to the violence if the commitment to give dialogue a chance is not genuine from all internal and external actors." He spoke at a news conference in the Syrian capital, Damascus.
International powers have pinned their hopes on a peace plan for Syria that special envoy Kofi Annan brokered in April. The plan paved the way for the U.N. observers, and it calls for a cease-fire and dialogue to stop 15 months of bloodshed.
The U.N. estimated in March that the violence in Syria has killed more than 9,000 people. Hundreds more have been killed since then as a revolt that began with mostly peaceful calls for reform has transformed into an armed insurgency.
Both sides have flouted the cease-fire, raising concerns that the peace plan is ineffective in a conflict where the violence is spinning out of control.
"We condemn in the strongest terms violence in all its forms by all parties," Ahmad Fawzi, spokesman for Annan, said in Geneva. "This must come to an end for any political process to be launched and to have a glimmer of success."
But dialogue seems a distant hope. The opposition refuses to engage with the regime while the killings continue, and the government brands its opponents as terrorists.
Syrian President Bashar Assad denies that there is a popular will behind the country's uprising, saying foreign extremists are driving the unrest to destroy the country.
Friday's shelling is part of an offensive that has been going on for days as the regime tries to retake the town of Rastan, which has been under the control of rebels since January.
Two main activist groups, the Local Coordination Committees and the Britain-based Syrian Observatory for human rights, said Rastan was under intense shelling as of Friday morning. Videos posted online showed thick smoke and shells slamming into districts in Rastan.
"I am more convinced than ever that no amount of violence can resolve this crisis," Mood said in Damascus. He also said recent suicide bombs and roadside blasts were alarming. "I am concerned about the incidents where explosives, improvised devices are targeting innocent civilians, innocent people because it is not going to help the situation."
On Thursday, U.N. Secretary-General Ban Ki-moon said he believes that "alarmingly and surprisingly," Al Qaeda must have been behind the massive attack in the Syrian capital last week.
The twin suicide car bombings outside a military intelligence building on May 10 bore the Al Qaeda-style tactics seen in neighboring Iraq. Some 55 people died and dozens were injured in the Damascus blasts.
Ban said that Al Qaeda's involvement in the region "has created very serious problems."
He also noted that there have also been two attacks against unarmed U.N. monitors trying to reduce the violence in Syria that began more than a year ago with a popular uprising against Assad.
His comments were made to students attending the annual Model U.N. Conference in New York.