UN and French Forces Fire on Ivory Coast Gbagbo's Residence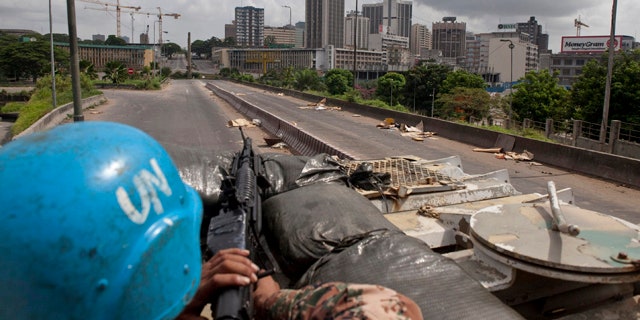 ABIDJAN, Ivory Coast-- United Nations and French helicopters have fired rockets on the residence of Ivory Coast strongman Laurent Gbagbo, who is holed up in a bunker, residents said Sunday.
Two residents from nearby neighborhoods reported seeing two Mi-24 attack helicopters and one French helicopter open fire on the residence. One resident reported seeing smoke rise from the compound. The residents couldn't be named for fear of reprisal.
An Associated Press reporter saw the same three helicopters take off from the French military base minutes before the reporter heard explosions coming from the direction of the residence.
Gbagbo's adviser in France Toussaint Alain confirmed the attack.
Gbagbo has been living in a bunker in his residence in Abidjan for nearly a week. After a decade in power, he still refuses to step aside even though the United Nations has ruled that he lost the November presidential election to Alassane Ouattara.
After four months of diplomacy, Ouattara gave the go-ahead for a military intervention led by fighters from a former rebel group. They swept across the country, advancing hundreds of miles (kilometers) and taking dozens of cities in a matter of days before being held up at the door of Abidjan, Ivory Coast's biggest and most strategically important city.
U.N. and French forces joined the effort this week and under a Security Council resolution, have been attacking Gbagbo's weapons arsenal, which has been used against civilians during the four-month-long political standoff.
Pro-Ouattara forces arrived at the gate of Gbagbo's compound on Wednesday, but were unable to capture the obstinate president. On Friday, internationally recognized president Ouattara imposed a blockade around Gbagbo's presidential residence.
Gbagbo's forces broke out of the presidential compound Saturday and advanced into position in the downtown core and near the Golf Hotel.
The United Nations said that the Golf Hotel in Abidjan where Ouattara is based came under attack late Saturday and one peacekeeper was injured. U.N. spokesman Hamadoun Toure said that rockets and mortars landed on the hotel grounds shortly after U.N. forces came under attack nearby on Saturday evening. One peacekeeper was evacuated to hospital with serious injuries, he said.
Massere Toure, a communications adviser for Ouattara, denied that the hotel itself was targeted by the attack, which she said started when a patrol sent out from the hotel was ambushed by forces loyal to former president Gbagbo. Toure confirmed that stray bullets and at least one mortar landed on hotel grounds during the fighting.
Gbagbo and his top military men were negotiating a surrender Tuesday that had raised expectations the four-month political standoff was nearing an end. But Gbagbo then denied he would give up power and insisted the presidency was his.
Ouattara's forces repeatedly said they do not want to kill Gbagbo, a move that would stoke the rage of his supporters. Some 46 percent of Ivorians voted for Gbagbo.