Ukrainian police arrive at Saakashvili's hotel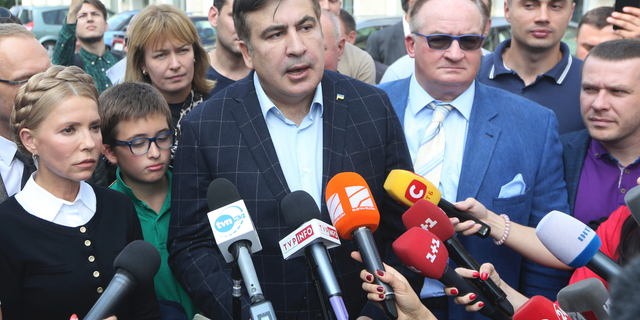 LVIV, Ukraine – Ukrainian border guards and police have arrived at the hotel where Mikhail Saakashvili is staying after he forced his way across the border from Poland.
Footage on Tuesday showed Ukrainian security officials in Leopolis Hotel's lobby in the western Ukrainian city of Lviv, but it was unclear whether they had come to arrest the former Georgian president and ex-governor of Ukraine's Odessa region.
Saakashvili poses a challenge to Ukrainian President Petro Poroshenko, who was once his patron but revoked his citizenship in July.
Returning to Ukraine was a risk for Saakashvili, who is stateless and vowing to shake up Ukrainian politics. Surrounded by supporters, he broke through a cordon of Ukrainian border guards at the Ukraine-Poland border Sunday.
Poroshenko has said that Saakashvili committed a crime by entering the country.