Ukrainian Court Refuses to Let Tymoshenko Free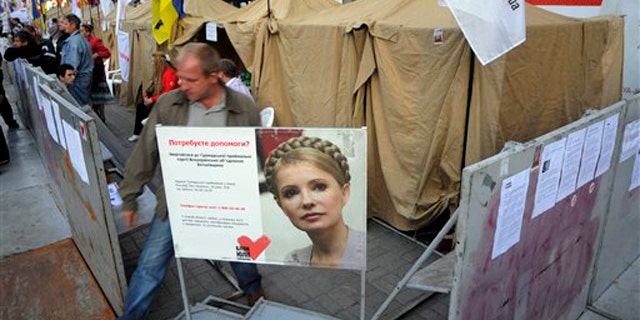 NEWYou can now listen to Fox News articles!
KIEV – A Ukrainian court on Monday rejected lawyers' request to free former Prime Minister Yulia Tymoshenko from jail during her abuse of office trial, a case the West has condemned as selective justice.
Hundreds of supporters and opponents -- some claiming they had been paid to show up -- clamored outside the security-heavy hearing for the country's glamorous top opposition leader.
She has criticized the trial as an attempt by President Viktor Yanukovych to bar her from future elections, refusing to rise when addressing the court and routinely insulting the judge. She was arrested Friday for contempt of court and violation of procedures.
She is accused of abusing her powers in signing a natural gas deal with Russia in 2009 that prosecutors claim was disadvantageous to Ukraine.
Opposition activists and rights groups say Ukraine's Kremlin-friendly president is trying to sideline his political opponents and muzzle critical media in a rollback on freedoms championed by his pro-Western predecessor.
The court has banned cameras from the trial, but some media broadcast footage of Tymoshenko in the courtroom apparently made by a cell phone. Wearing her signature braided hairdo, she appeared energetic and determined, thanking the West and Russia for their support.
The judge on Monday turned down two defense appeals for Tymoshenko's release. Her husband told reporters that Tymoshenko, a nonsmoker, was feeling OK but suffering badly because one of her cellmates smokes.
Surrounded by riot police, Several hundred Tymoshenko's supporters gathered outside the court, opposite a similar number of Yanukovych supporters, some of them waving his party's blue and white flags. One of the participants in the pro-government rally, Yelisey Leroy, a student, said he joined because the organizers promised to pay an equivalent of some $20 a day to every participant.
Tymoshenko insists she is innocent, arguing that the 2009 deal ended weeks of natural gas disruptions to Ukrainian and European consumers and that she was authorized to sign the deal as prime minister.
The U.S. and EU have condemned cases against Tymoshenko as selective justice, and Russia's Foreign Ministry has said the 2009 gas deal did not break any Russian or international laws.
Many observers in Ukraine and abroad believe real motive for Tymoshenko's trial is to disqualify her from upcoming parliamentary and presidential elections by convicting her as a felon.
Vadym Karasyov, a Kiev-based independent political analyst, said that Tymoshenko's arrest may bolster support for the charismatic opposition leader and help consolidate Ukraine's weakened and fractured opposition. "The authorities have made, with their own hands, an image, a symbol of struggle for all those who are unhappy with the current regime," he said.
Tymoshenko was the central figure in Ukraine's 2004 Orange Revolution mass protests that threw out Yanukovych's fraud-tainted victory in a presidential election and helped bring a pro-Western government to power.
She became prime minister, but lost to Yanukovych in the 2010 presidential election after Ukrainians had grown frustrated by economic hardships, slow reforms and endless bickering in the Orange camp.
Despite the defeat, Tymoshenko have remained widely popular thanks to her glamorous style and fiery rhetoric.
"Tymoshenko is our last hope," said Viktor Voytko, one of her supporters who gathered Monday outside the court. "Now people are still sleeping, but they will rise soon."