Ukraine's protests look different through the eyes of the Kremlin and its opponents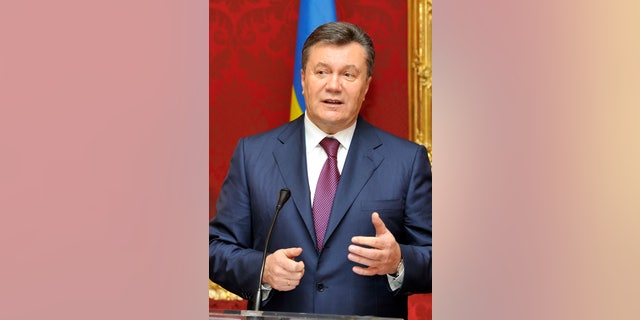 MOSCOW – As the cry for revolution grows louder from Ukrainian protesters rallying for closer ties with Europe, the Kremlin is eager to stave off copycat efforts in Russia. State media are casting the protesters in Kiev as Western-sponsored "professional revolutionaries" bent on violently toppling the government.
Meanwhile, Russia's protest movement, which has languished since Vladimir Putin's return to the presidency, looks on enthusiastically but wistfully as street protests in Kiev have the government on the run.
Here is a look at the Ukrainian protest through Russian eyes:
KREMLIN-CONTROLLED TV
"Revolution is an expensive thing." That refrain has become common in Russia this week, as journalists on Kremlin-controlled channels spin the rallies in Kiev as the work of meddlesome, moneyed foreigners.
NTV said that many of the protesters had come from outside of Kiev and labeled them "professional revolutionaries, for whom organizing riots is a job." Another channel, Rossiya, said that the Ukrainian opposition was receiving foreign money and training, sometimes via "seemingly harmless" non-governmental organizations and sometimes directly from the U.S. Embassy.
The Rossiya report then showed a man who said he had been promised payment for participating in a protest. The interview was lifted from a Ukrainian channel and the full version does indeed show the man complaining about not being paid — for protesting in support of Ukrainian President Viktor Yanukovych's decision to ally with Moscow.
THE RUSSIAN OPPOSITION
The Russian protest movement drew tens of thousands to the streets after manipulated parliamentary elections in late 2011, but they dwindled upon Putin's return to the Kremlin the next year. Opposition leaders have looked on with both enthusiasm and envy as Ukrainians set up barricades in the streets of their capital.
Some wrote gleefully about Ukraine's unwillingness to be cowed by Moscow. "Imperialists, calm down. Your empire suffered a geopolitical catastrophe a long time ago and will sleep forever," wrote Vladimir Milov, an economist and former government official now active in the opposition.
Former world chess champion Gary Kasparov wrote that Putin should be shaking in his boots: "Dictators fear freedom on their borders."
But the successes of the Ukrainian opposition have proven a bitter counterexample to Russia, where the protests fizzled in part because of repressive new laws. They have been used to impose heavy fines on protesters and to push a criminal case against more than 20 people who face prison time after an anti-Putin rally in May 2012 turned violent.
"There (in Kiev) they file a criminal case against the riot police, but here we have innocent people who have been in jail for a year," opposition leader Alexei Navalny wrote on Twitter.
After riot police violently dispersed protesters in Kiev over the weekend, Yanukovych apologized and promised to punish those responsible.
THE ORANGE REVOLUTION
The weeks of protests in 2004 that led to the annulment of a fraud-tainted presidential election and set the stage for the victory of a Western-leaning reformer in Ukraine shocked the Kremlin. Putin saw the Orange Revolution as a Western plot to encroach on Moscow's traditional sphere of influence and weaken his own power.
Putin responded by tightening control over Russia's political scene and introducing tough restrictions on non-government organizations, which he saw as an instrument of Western pressure.
The Kremlin in the past week has revived the old rhetoric, with Russian state broadcasters and politicians casting the protest movement in Ukraine as a tool of the West.
Some Russians see the protests as the EU's reaction to Ukraine's apparent rejection of its offer for an association agreement.
"It's clear that Western 'soft power' has suddenly grown into harsh pressure," said lawmaker Sergei Zheleznyak. "The 'Eurocookie' was a disappointment, and this has led to active use of the 'Eurowhip.'"