Ukraine rejects Putin's gas discounts offer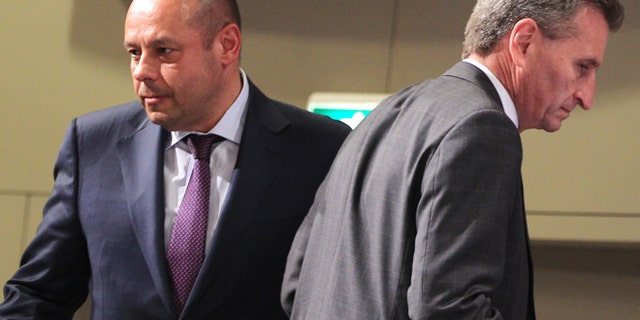 Ukraine rejected Russia's offer of a discount for gas shipments during talks on Wednesday.
Russia offered to restore the discounted prices it granted Ukraine under the ousted pro-Russian president, but Ukraine demanded an even better deal and called for arbitration to settle the dispute.
Speaking in Moscow, Putin said Russia was offering the discount as a "partnership deal." Russia's Energy Minister Alexander Novak specified the price offered as $385 per 1,000 cubic meters of gas, according to Russian news agencies.
"We believe that our offer is more than in a partnership spirit aimed to support the Ukrainian economy at a rather difficult time," Putin said in televised remarks. "But if our offers are rejected, this means we will enter another stage, this is not our choice. We do not want it."
Ukrainian Energy Minister Yuri Prodan told Russian news agencies on Wednesday that Kiev found the deal unacceptable.
Prodan said Ukraine was seeking a price lower than the $385 per 1,000 cubic meters. The minister said the Ukrainian government now believes that arbitration is the best option to solve the dispute.
Prodan, however, added that Ukraine is open to talks to hammer out a temporary price while arbitration is proceeding.
Putin and Russia's energy minister, Alexander Novak, said Wednesday the government was also ready to guarantee the discounts would remain in place for one year.
It wasn't immediately clear if Russia expected something in return.
EU Russian envoy Vladimir Chizhov hinted Wednesday that Ukraine was the problem.
"These negotiations stand a good chance of success, but this particular tango takes three," he said, according to Reuters.
The dispute is part of a broader stand-off, as Kiev's new leadership struggles to contain a pro-Russian separatist rebellion, Reuters reported.
Disputes over the price Russia charges Ukraine for gas led to supply cutoffs in 2006 and 2009.
According to Reuters, Russia dropped Ukraine's gas price from $485 per 1,000 cubic meters to $268.50 after former President Viktor Yanukovich turned his back on a trade agreement with the EU last year, but reinstated the original price after he was ousted. Russia says Ukraine has more than $4 billion in debts to Gasprom and must pay off a portion of the debt before a new price deal is reached.
Ukraine paid off $786 million at the start of last week, but said it will only pay more when an overall deal is struck, Reuters reported.
The Associated Press contributed to this report.