Ukraine president claims most Russian forces have left country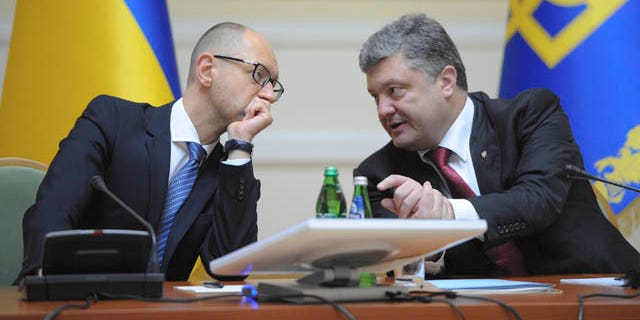 Ukraine's president has claimed that most Russian forces have left his country in the latest conciliatory move aimed at stoking a peace campaign that began last week, while the European Union slapped new economic sanctions on Russia.
Reuters reported that Petro Poroshenko told a televised Cabinet meeting that "70 percent of Russian troops have been moved back across the border ... This further strengthens our hope that the peace initiatives have good prospects."
He also said 700 Ukrainian prisoners had been freed from rebel captivity and expressed hope that another 500 would be freed by the end of the week.
Estimates of the number of Russian troops that have taken part in the five-month old Ukrainian conflict have varied, with NATO estimating that at least 1,000 regular forces have been involved. For its part, Moscow has repeatedly denied training or equipping separatist rebels in eastern Ukraine.
Poroshenko added the cease-fire was being tested by "terrorists" who attempted to provoke Ukrainian government forces. Ukraine claims that five servicemen have been killed during the cease-fire, while a civilian also died as a result of shelling in the port city of Mariupol.
On Thursday, two volleys of Grad rocket fire rang out in Ukraine's eastern, rebel-held city of Donetsk. The city council of Donetsk confirmed in a statement there had been multiple explosions during the morning, but reported no casualties.
Poroshenko said government forces are "regrouping" in an effort to defend Ukrainian territory from further attacks by separatists, who succeeded in breaking Kiev's encirclement of Donetsk and Luhansk with a fresh Russian-backed offensive just prior to last week's cease-fire.
New sanctions that the European Union imposed on Russia will further curb access to European capital markets for Russian firms and banks, limit exports of certain high-technology goods and target several officials with travel bans and asset freezes, diplomats told The Associated Press in Brussels.
The sanctions will take effect Friday following their publication in the EU's official journal but will be reversible if the situation in eastern Ukraine improves, four diplomats said independently. They spoke on condition of anonymity pending the official announcement.
A summit of EU leaders almost two weeks ago called for the new sanctions to be finalized, but they were then twice postponed to assess the impact of a cease-fire in eastern Ukraine. The United States previously said it was also considering new sanctions once the EU moves forward, and could now take that step as early as Thursday.
The new sanctions are expected to deepen earlier penalties targeting Russia's oil and arms sectors, including a further tightening of access to international capital markets. The current ban on credits and loans to Russian entities with a maturity of more than 90 days will be reduced to 30 days, two diplomats said. Curbing access to western capital markets could weigh down Russia's already-flagging economic growth.
More individuals, including Russian government officials and people close to Russian President Vladimir Putin, are also expected to be sanctioned.
Despite Poroshenko's concerns about the cease-fire, a Kremlin spokesman said the Ukraine president spoke with Russian President Vladimir Putin on Tuesday, and both pronounced themselves happy with the cease-fire "on the whole."
In Moscow, Putin accused the West of using the crisis in Ukraine to reinvigorate NATO, warning that Moscow will ponder a response to the alliance's decision to create a rapid-reaction "spearhead" force to protect Eastern Europe.
Addressing a Kremlin meeting on weapons modernization, Putin ominously warned the West against getting "hysterical" about Moscow's re-arming efforts, in view of U.S. missile defense plans and other decisions he said have challenged Russia's security.
"We have warned many times that we would have to take corresponding countermeasures to ensure our security," Putin said, adding that he would now take personal charge of the government commission overseeing military industries. "I would like to underline that we only take retaliatory steps."
Putin claimed that some in the West would like to pull Russia into a new arms race, but "we will not enter such race, it's absolutely excluded."
Meanwhile, Sky News reported that the World Health Organization has claimed that Ukraine faces a possible health emergency due to dwindling medical supplies, with the agency's representative in Kiev warning of a possible polio outbreak.
"Ukraine has no vaccines ... they don't have any vaccines in their storage," Dorit Nitzan said. "Even before the crisis began they had low coverage."
The Associated Press contributed to this report.