Ukraine pact with European Union prompts warning from Russia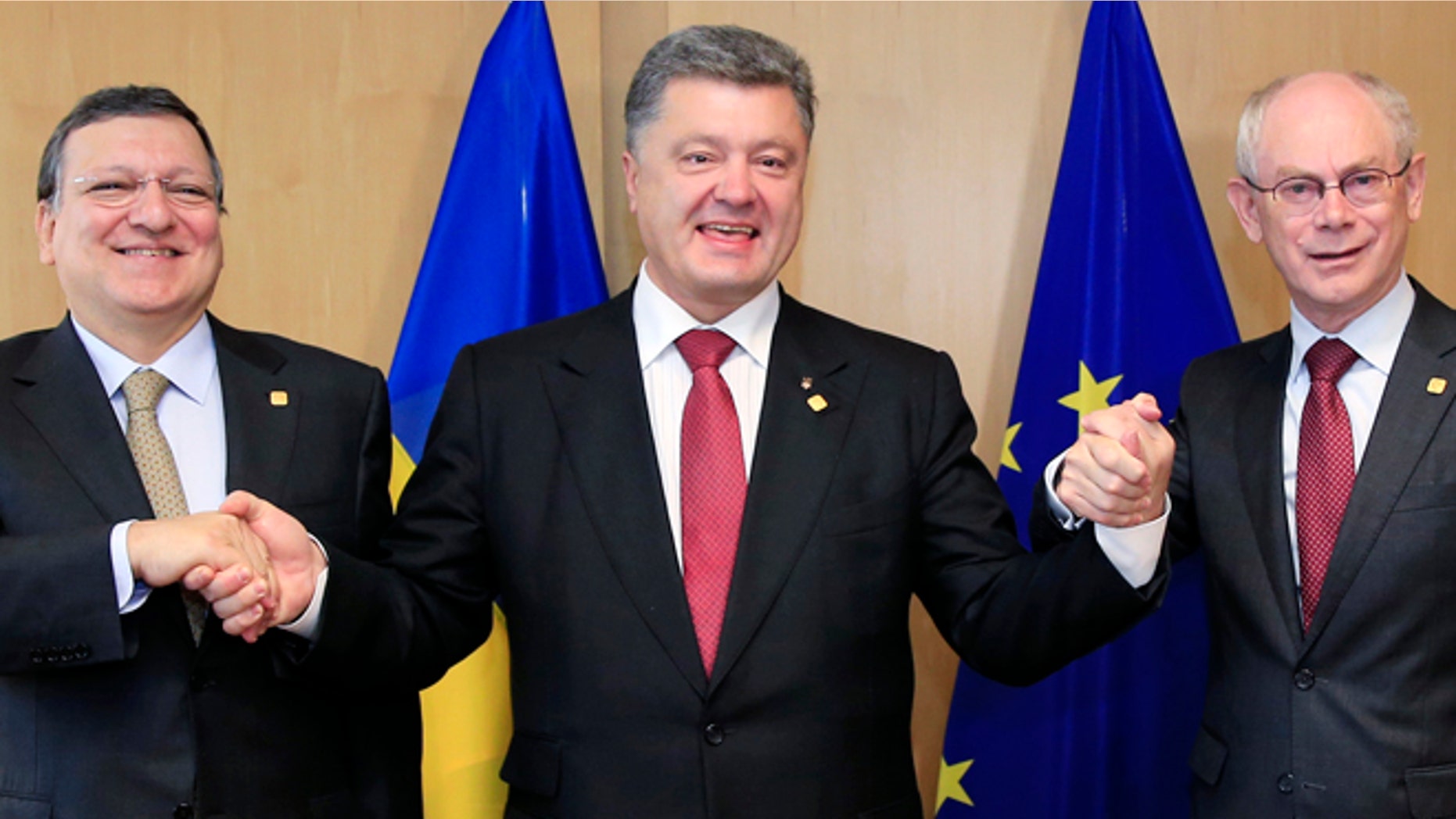 Ukraine signing an historic trade and economic pact with the European Union Friday may bring "grave consequences," Russia warned.
The agreement also prompted EU leaders to hold off on imposing new sanctions on Russia for its continued military presence in the embattled country.
Ukrainian President Petro Poroshenko called Friday's agreement the "most important day" for his country since it became independent from the Soviet Union.
Olexander Motsyk, Ukraine's ambassador to the U.S., told FoxNews.com the nation is looking westward to its future.
"It is our ambition to become a member of the European Union in foreseeable future, the purpose of which is not just to join the EU, but, most importantly, to build a free, democratic and prosperous European nation in Ukraine," Motsyk said.
Russia's response was threatening but unspecific. "There will undoubtedly be serious consequences for Ukraine and Moldova's signing," Russian Deputy Foreign Minister Grigory Karasin said.
Moscow does not favor ties between Ukraine and Europe, fearing it will lose its influence over its strategic neighbor, which it considers the birthplace of Russian statehood and of Russian Orthodox Christianity.
Russian President Vladimir Putin did not immediately comment on the trade pact, but in recent days has signaled that he wants to de-escalate the conflict to prevent further punishing sanctions.
"The most important thing is to guarantee a long-term cease-fire as a precondition for meaningful talks between the Kiev authorities and representatives of the southeast (of Ukraine)," Putin said Friday.
In a statement Friday, European leaders meeting in Brussels left all options open, saying new sanctions have been prepared and could be imposed "without delay."
EU leaders gave the Russian government and the rebels in eastern Ukraine until Monday to take steps to improve the violent situation. Those included agreeing on a mechanism to verify the cease-fire, returning three border checkpoints to Ukraine, releasing all captives and launching "substantial negotiations" on Ukrainian President Petro Poroshenko's peace plan.
An insurgent leader in eastern Ukraine said Friday his group is ready to extend a cease-fire and will soon release the European observers they have been holding for weeks.
The talks in the eastern city of Donetsk came as a weeklong cease-fire declared by Ukrainian President Petro Poroshenko is set to expire later Friday.
Insurgent Alexander Borodai said the rebels will free four OSCE observers "in the nearest days." He spoke after talks involving Ukraine's former president, the Russian ambassador and an envoy from the Organization for Security and Cooperation in Europe.
Borodai demanded Ukrainian troops withdraw from eastern Ukraine and said insurgents wouldn't withdraw from the Ukrainian checkpoints on the border with Russia they have seized.
The European Union also signed similar trade association agreements with two other former Soviet republics, Moldova and Georgia, Friday.
Businesses in the three countries whose goods and practices meet EU standards will be able to trade freely in any EU country without tariffs or restrictions. Likewise, EU goods and services will be able to sell more easily and cheaply to businesses and customers in Ukraine, Georgia and Moldova.
"It's absolutely a new perspective for my country," Poroshenko said.
It was the decision of Poroshenko's predecessor, Viktor Yanukovych, to back out of the EU association agreement in November that touched off massive, bloody protests in Ukraine, and eventually led to Yanukovych's flight to Russia and Russia's occupation and annexation of Ukraine's Crimean Peninsula.
Svetlana Kosenko, an 18-year-old student from Ukraine's western regions, said she didn't believe the country would change overnight.
"I think it will take a long time," she said. "As they say, hope dies last, and for now we hope things will be good."
Poroshenko's office confirmed that a weeklong cease-fire, which both sides have accused each other of violating, was set to expire at 10 p.m. local time.
Interior Minister Arsen Avakov told Ukraine's Fifth Channel that at least 20 servicemen had been killed since the rebels agreed to the cease-fire, although he did not elaborate. He said the government would respond "harshly and adequately" to all rebels who did not put down their arms by Friday evening.
An overnight battle for a National Guard base in the eastern city of Donetsk left rebels in control early Friday. All servicemen were set free but the commander was taken captive, according to the National Guard's website.
European Commission experts estimate Friday's deal will boost Ukraine's national income by 1.2 billion euros ($1.6 billion) a year. Ukraine won a 15-year transition period during which it can use tariffs to support its domestic auto industry from competition. Moldova will gradually eliminate protections for its dairy, pork, poultry and wine producers over 10 years, while the EU placed limits on imports of chicken from both countries.
Perhaps more important than the trade clauses is an accompanying 10-year plan for Ukraine to adopt EU product regulations. Such rules ease the way for international trade beyond Europe.
The trade deal also demands that Ukraine change the way it does business. Adopting EU rules on government contracts, competition policy and copyright for ideas and inventions should improve Ukraine's economy by reducing widespread corruption and making it more investor-friendly.
Dmitry Peskov, a spokesman for President Vladimir Putin, told Russian news agencies that the Kremlin would respond to the EU-Ukraine accord "as soon as negative consequences arise for the economy."
But Peskov dismissed the threat of immediate action against Poroshenko's government. "In order for those (consequences) to arise, the signed agreement needs to be implemented," he said.
Russia has previously imposed trade embargoes against its neighbors in response to political or economic moves that the Kremlin views as unfavorable.
The U.N. said Friday that 110,000 Ukrainians had fled to Russia this year and another 54,000 fled their homes but stayed in Ukraine as the government fought with separatists in the mostly Russian-speaking east. Long lines of cars stuffed with belongings backed up at the border heading into Russia this week.
The Associated Press and Reuters contributed to this report.