Ukraine forces shell Donetsk in attempt to turn up pressure on rebels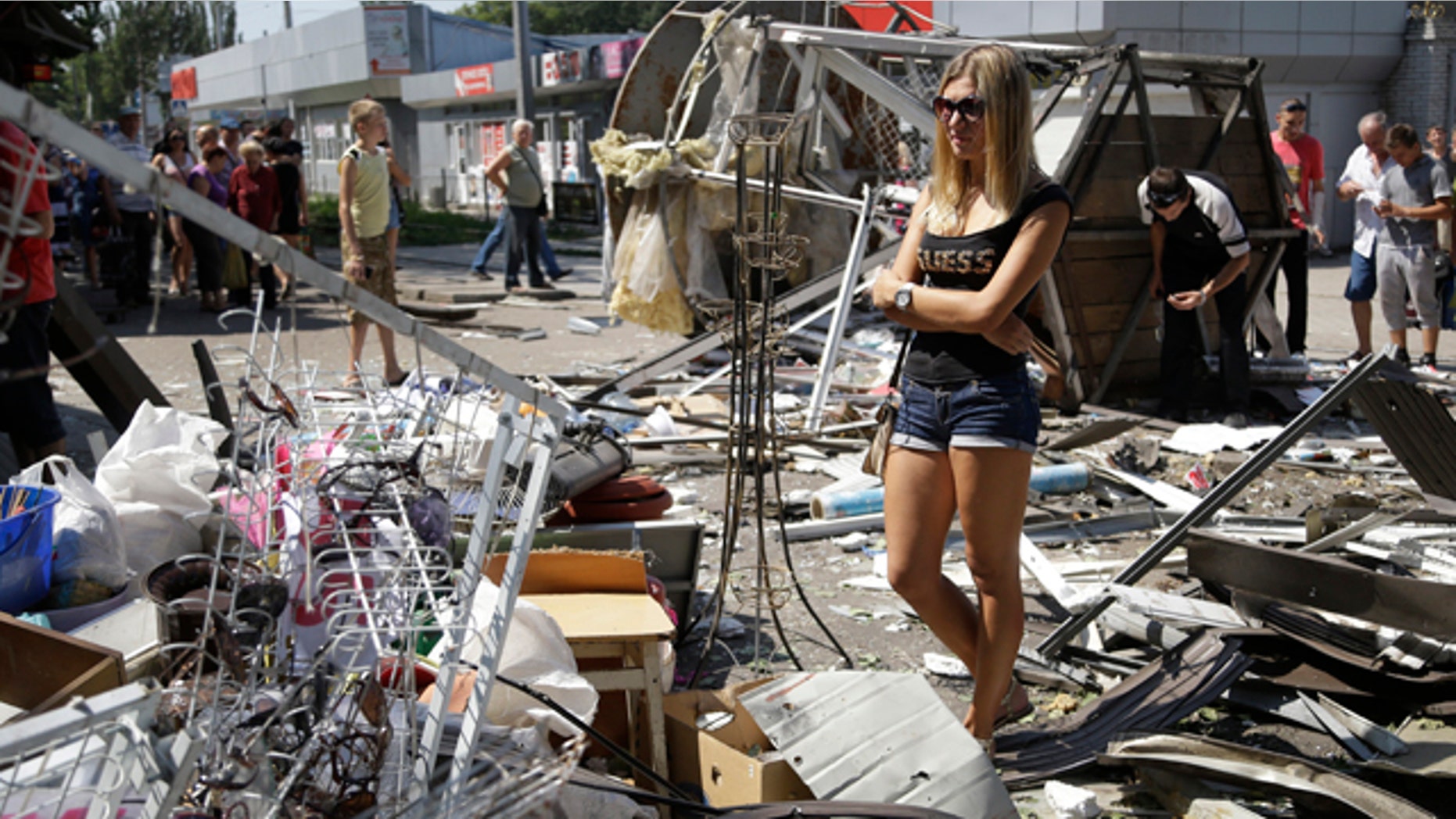 DONETSK, Ukraine – A mortar hit a large hospital in the troubled Ukrainian city of Donetsk Thursday, killing at least one person, as government forces tighten their grip on the pro-Russian rebel stronghold.
"There was a sudden explosion, a mortar round flew through the window, all the equipment was destroyed," said Anna Kravtsova, a doctor at the Vishnevskiy Hospital. "They killed one person, and one person was injured and taken away."
Only the dentistry unit suffered damage, witnesses said, but it is one of Donetsk's larger hospitals, only 4 kilometers (less than 3 miles) from the city's main square, and has also provided treatment to civilian victims of the conflict.
Kravtsova said that the person who was killed was a patient of the hospital. Donetsk city council spokesman Maxim Rovensky confirmed to the AP that one person had been killed, and said five were wounded.
The incident follows a night of shelling in another central neighborhood. The city council said in a statement posted on its website that three people had been killed and five wounded, and several residential buildings destroyed.
As the rebels struggle to push back Kiev's forces, fears of Russian intervention have grown. Western leaders have accused Russia of massing troops on the border with Ukraine, although Russia has denied those claims.
In Kiev, meanwhile, demonstrators confronted city workers who were attempting to clear a central square Thursday, setting light to tires in protest against the city government's move.
Dark plumes of acrid smoke from burning rubber rose above Independence Square as workers guarded by armed men in camouflage dismantled some of the barricades surrounding the area.
The square and surrounding streets were the site of massive protests during the winter, which helped oust the country's pro-Russian former president Viktor Yanukovych from power. New president Petro Poroshenko was elected in May, but many have said they will remain on the square to ensure the new government follows through on promises of reform.
Kiev authorities have been negotiating with the protesters to clear the square since a new mayor was elected in May, but have met strong resistance from the several hundred demonstrators still camped out on the square.