UK police shoot 1, arrest 6 others in counter-terror raids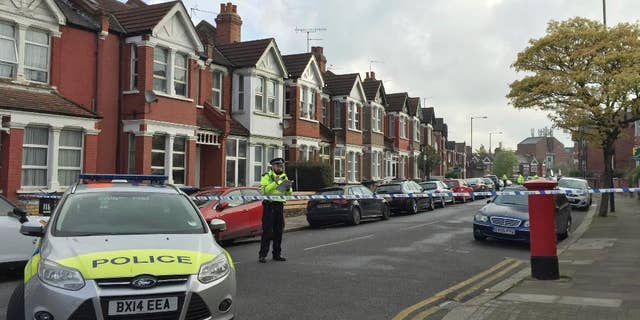 NEWYou can now listen to Fox News articles!
LONDON – British police said Friday they had disrupted an active terrorist plot with raids in London and southeastern England. One woman was shot and seriously injured in the police swoop.
Six suspects were arrested on terrorism-related charges, police said. The injured woman, who is in her 20s, was in serious but stable condition in a hospital.
The woman, whose name has not been released, was under police guard but had not been arrested because of her condition, police said.
Metropolitan Police Deputy Assistant Commissioner Neil Basu said armed officers fired CS gas into the house in the Willesden area of northwest London, which had been under observation as part of an anti-terrorism investigation. He did not give details of how the woman was shot.
In footage shot by a witness, what sounds like several shots ring out as police surround the row house.
Neighbor Maxine McKenzie said she saw "a lot of frenetic police activity" and a woman being taken out of the house on a stretcher.
"She was sitting upright and had oxygen on — I couldn't tell if she was conscious or unconscious," McKenzie said.
The raids by counter-terrorism officers marked an increase in police activity in the hours after a man was arrested Thursday afternoon near Parliament and the prime minister's office in Downing Street while allegedly carrying large knives in a backpack. The 27-year-old suspect, who has not been identified, had been under police surveillance.
Police said Friday the raids in north London and southeastern England were not related to the earlier incident, which near where an attacker drove an SUV into pedestrians on Westminster Bridge on March 22, killing four, before fatally stabbing a police officer inside the gates of Parliament
Basu said the Willesden raid disrupted an ongoing plot, but did not elaborate.
In both the Willesden and Parliament incidents, "we have contained the threat that they posed," Basu said.
Britain's official threat from international terrorism stands at the second-highest level, "severe," meaning an attack is highly likely.
Counterterrorism police say 13 potential attacks have been foiled in the last four years. Police and security services say they face a challenge monitoring hundreds of people of interest, including Britons who went to join IS militants in Iraq and Syria and have returned.
Basu, Britain's senior coordinator for counterterrorism policing, said there had been "increased activity to combat terrorism over the last two years," with police "making arrests on a near-daily basis."
In Thursday's raids, a 20-year old woman and a 16-year-old boy were arrested at the address where the woman was shot, as was a 20-year-old man nearby. A man and a woman, both aged 28, were arrested when they returned to the house later.
A 43-year-old woman in Kent county, southeast of London, was also arrested.
Police said the suspects were being held on suspicion of preparation of terrorist acts. They were being questioned but had not been charged.