UK police defend their handling of London standoff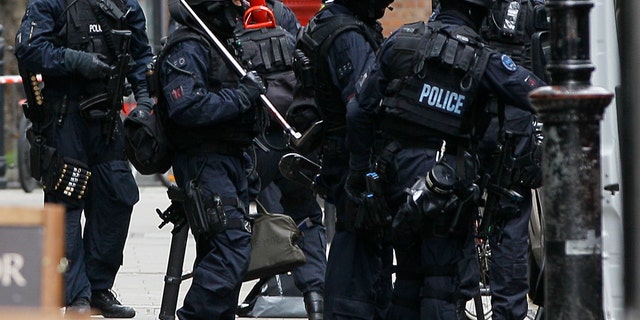 LONDON – A rare show of force that saw dozens of heavily armed police, snipers and specialist hazard teams close off a stretch of central London's shopping district was necessary amid fears of a life threatening situation, a police commander said Saturday.
Commander Adrian Hanstock said the high-profile operation Friday in the Tottenham Court Road area was proportionate, amid concerns that a suspect had carried flammable liquids and other dangerous items into an office block.
A three-hour-long standoff took place after a man burst into the offices of a company that offers tests for truck drivers. Office equipment was hurled from windows and panicked staff at businesses nearby said they believed he was carrying explosives.
Armed police poured into central London, evacuating offices, closing subway stations and sealing off a wide area of the busy retail district.
"This was a potentially life-threatening matter owing to our concerns that a suspect had in their possession flammable liquids and other dangerous articles," Hanstock said.
He acknowledged that some members of the public had appeared alarmed at the sight of large of numbers of heavily armed police officers deployed to deal with a single suspect who was not carrying a firearm.
Photographs of the scene showed masked officers in military-style clothing armed with multiple weapons -- an incredibly rare occurrence in Britain, where regular police officers do not carry weapons.
Public sensitivities are high ahead of the July 27 opening of the Olympics in the British capital, when around 12,000 police, 10,000 security guards and up to 13,500 British troops will help protect the event.
"Whilst this incident has drawn significant attention to some of the resources, equipment and officers we have at our disposal, in reality only a small proportion of officers throughout the police service are trained in these specialist techniques," Hanstock said. "We do not call upon these tactics unless it is absolutely necessary and considered proportionate to the threat."
A 48-year-old man detained at the scene was found to be carrying flammable liquids. He is continuing to be questioned by police over the incident.