UK election: Candidate Lord Buckethead earns votes in Maidenhead race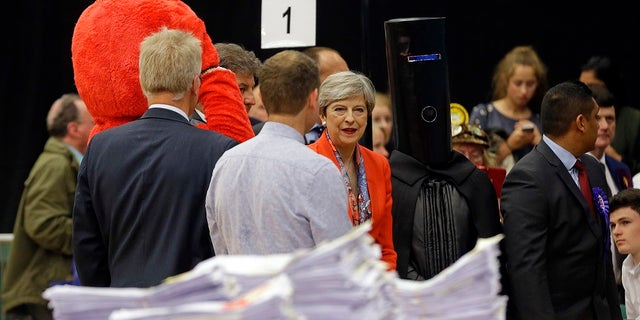 NEWYou can now listen to Fox News articles!
All sorts of political candidates -- even mascots -- turned up for Britain's general election on Thursday.
Lord Buckethead, who described himself as an "intergalactic space lord," ran in Berkshire's Maidenhead county constituency race and won 249 votes.
Buckethead, whose real identity is not known according to The Guardian, received internet attention after photographers captured the imposing all-black, masked character standing next to British Prime Minister Theresa May.
UK ELECTION: THERESA MAY TO ASK QUEEN PERMISSION TO FORM GOVERNMENT DESPITE LOSING MAJORITY
Buckethead ran on a platform of powerful but "not entirely stable leadership." He released his manifesto after the votes were counted. He called the results, a "new Buckethead record."
His manifesto included, "the abolition of the Lords (except me), stop selling arms to Saudi Arabia. Start buying lasers from Lord Buckethead and new voting limit of age 16 to be introduced. New voting age limit of 80 to be introduced too."
UK ELECTIONS: HUNG PARLIAMENT COULD JEOPARDIZE BREXIT PLAN
This is not Buckethead's first election appearance. A candidate also named Lord Buckethead ran against Margaret Thatcher in 1987. That lord gained only 131 votes.
Other unorthodox candidates who ran include Elmo, who received a disappointing three votes in Maidenhead and Mr. Fishfinger, a man who wears a frozen fish stick costume, gained an astonishing 309 votes in Cumbria's Westmorland and Lonsdale election.