Ugandan presidential candidate arrested again for trying to leave his home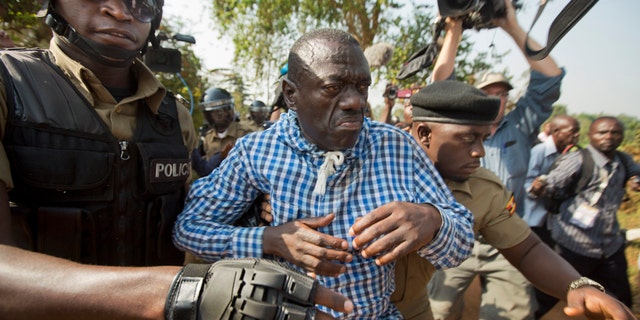 NEWYou can now listen to Fox News articles!
KAMPALA, Uganda – Tensions after Uganda's elections, criticized by international observers as being undemocratic, ratcheted up on Monday when police arrested President Yoweri Museveni's main challenger.
Kizza Besigye was arrested as he tried to leave his home where he had been confined under house arrest. Associated Press journalists saw police manhandle him into the back of a blacked-out van and taken away to an undisclosed location.
Besigye had been going to the election commission to get detailed copies of results from presidential election. He has called for an independent audit that includes the international community.
Polly Namaye, a police spokeswoman, said officers arrested Besigye to keep him from "storming the electoral commission with his supporters."
Neutral observers had criticized the government for using security forces against opposition candidates and supporters.
The commission announced Saturday that Museveni won the vote with more than 60 percent of counted ballots, while Besigye got 35 percent.
Those results did not include tallies from at least 1,242 polling stations, election commission spokesman Jotham Taremwa told AP on Monday. That's about 4 percent of all polling stations.
Taremwa said the missing results cannot change the outcome, but Besigye's supporters note they could bring down Museveni's margin of victory. Museveni needed 50 percent plus one vote to avoid a runoff election.
The election commission lacks independence and transparency, the European Union observer mission said.
The 71-year-old Museveni seized power in 1986. He is a key U.S. ally on security matters, especially in Somalia.
Besigye was Museveni personal physician during the 1981 to 1986 bush war between Museveni's rebels and forces loyal to former President Milton Obote. He also served as deputy interior minister in his first Cabinet, and broke with the president in 1999, saying he was no longer a democrat.