Ugandan president inaugurated amid opposition arrests, social media shutdown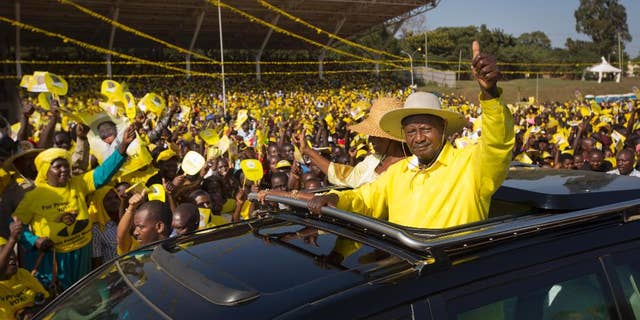 NEWYou can now listen to Fox News articles!
KAMPALA, Uganda – Uganda's long-time president has been sworn in for a fifth term taking him into his fourth decade in power, amid arrests of opposition politicians and a shutdown of social media.
President Yoweri Museveni was inaugurated Thursday in the capital, Kampala, in a ceremony attended by dignitaries from across Africa, including President Omar al-Bashir of Sudan.
Human Rights Watch urged Ugandan authorities to arrest Bashir, saying Museveni will "tarnish his inauguration further by welcoming" Bashir, who is wanted by the International Criminal Court for alleged atrocities in Darfur.
Ahead of Museveni's inauguration, security forces detained some opposition figures and the government blocked social media like Facebook and Twitter.
Opposition leader Kizza Besigye has rejected Museveni's victory in the February polls, calling the vote a fraud.
Museveni has held power since 1986.