Ugandan lawmakers in brawl over 'life presidency' bill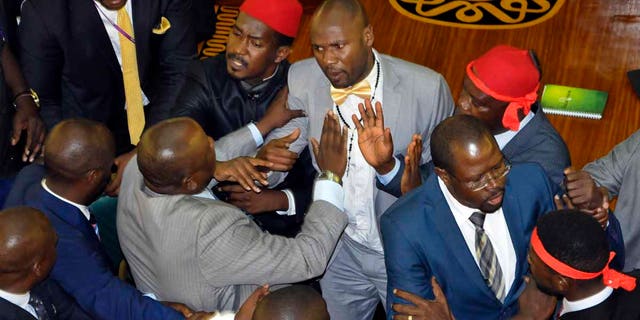 KAMPALA, Uganda – A fistfight broke out in Uganda's parliament Tuesday amid efforts to introduce legislation that could extend the president's decades-long hold on power.
After opposition lawmakers accused a colleague on the government side of carrying a gun, a brawl broke out in which lawmakers pushed and punched each other before the speaker ordered body searches.
A motion was due to be introduced Tuesday that seeks to remove a constitutional provision that prevents anyone over the age of 75 from running for president, but opposition lawmakers filibustered proceedings by repeatedly singing the national anthem. In the chaotic scenes, the parliamentary speaker adjourned the session until Wednesday.
PUERTO RICO STRUGGLES TO RECOVER FROM HURRICANE MARIA AS TRUMP PLANS VISIT
The move to jettison the age limit is seen as an effort by President Yoweri Museveni, who at 73 is ineligible to run for re-election in 2021, to extend his rule. Museveni himself has ducked the question of whether he is interested in more time in office, saying recently that the matter is not so important.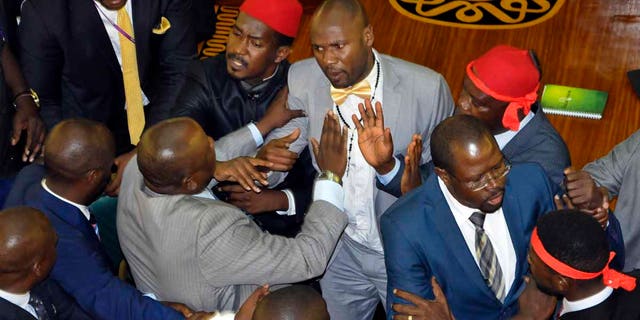 But critics say behind the scenes he is orchestrating the move by lawmakers to remove the last hurdle to extend his presidency, possibly to rule for life.
Uganda's ruling party enjoys an overwhelming majority in the national assembly and the bill is expected to pass despite the spirited efforts of some opposition lawmakers who wear red bandanas as a sign of what they say is their resistance to the long rule of Museveni.
Heavy security was deployed in the capital, Kampala, and police fired tear gas and arrested scores Tuesday who demonstrated their opposition to ongoing efforts to remove the age limit from the constitution.
OTTO WARMBIER'S PARENTS OPEN UP ABOUT SON'S TORTURE BY NORTH KOREA
The United States urged Uganda's government to protect basic freedoms "without fear of intimidation," and Amnesty International said authorities "must end their absurd attempts to silence people opposed to scrapping the presidential age limit."
The bill has raised tensions in this East African country that has never seen a peaceful change of power since independence from Britain in 1962.
Museveni, a U.S. ally on regional security, took power by force in 1986 and was re-elected last year in a poll marred by allegations of fraud and voter intimidation.
Although Museveni warned in the past that Africa's problem was leaders "who want to overstay in power," he has since said he was speaking about leaders who were not elected.