Uber taxi app shut down in Spain; India considering ban after rape incident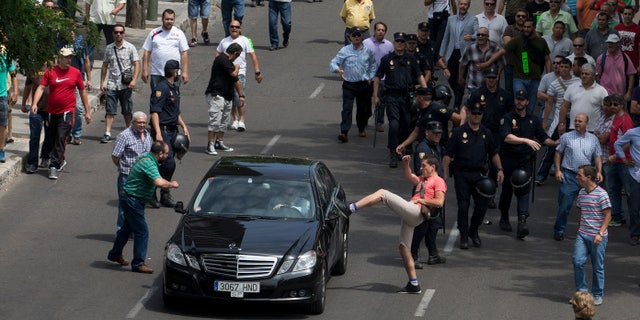 MADRID (AP) – A judge has ordered the precautionary suspension of the ridesharing service Uber in Spain, saying it represents unfair competition.
A Madrid mercantile court judge said Tuesday that Uber drivers lacked proper permits to transport passengers in Spain.
The suspension had been sought by Madrid's Taxi Association, which is planning a legal case against Uber.
There was no immediate comment from Uber.
Uber allows passengers to hail a ride from a mobile app. The company takes a cut from what the drivers' charge.
Taxi drivers say such services are unfair as the drivers do not have to fulfill the same requirements or pay tens of thousands of euros (dollars) for training and licences as taxi drivers do.
Meanwhile, in India, a top official called Tuesday for the taxi-booking service to be banned nationwide after one of its New Delhi drivers was accused of rape.
Police questioned an Uber executive about the company's claim it conducts comprehensive background checks.
New Delhi police official Brijendra Kumar Yadav said there is a possibility of criminal charges against the company if police find evidence the taxi-hailing app misrepresented the safety of its service.
The driver, 32-year-old Shiv Kumar Yadav, is being held by police and will appear again in a New Delhi court on Thursday. A 26-year-old woman who hired Yadav for a ride home from a dinner engagement Friday night accused him of rape.
"What we are doing is trying to ascertain what knowledge Uber had of this person," said the police official Yadav, who is unrelated to the suspect. Police had questioned Uber's general manager in India, Gagan Bhatia, for a second day about the company's operations. They were also investigating whether the driver may have presented false documents to Uber, according to Press Trust of India.
Uber has faced restrictions in other countries after licensed taxi operators claimed the service was competing unfairly. Uber's drivers are independent contractors using private cars rather than licensed cabs. Separately, Thailand on Tuesday said it was illegal for private cars to be used as taxis and threatened fines of $60 for each violation.
Like us on Facebook
Follow us on Twitter & Instagram