U.S. Troops in Afghanistan Honor the Fallen Amid Increasing Attacks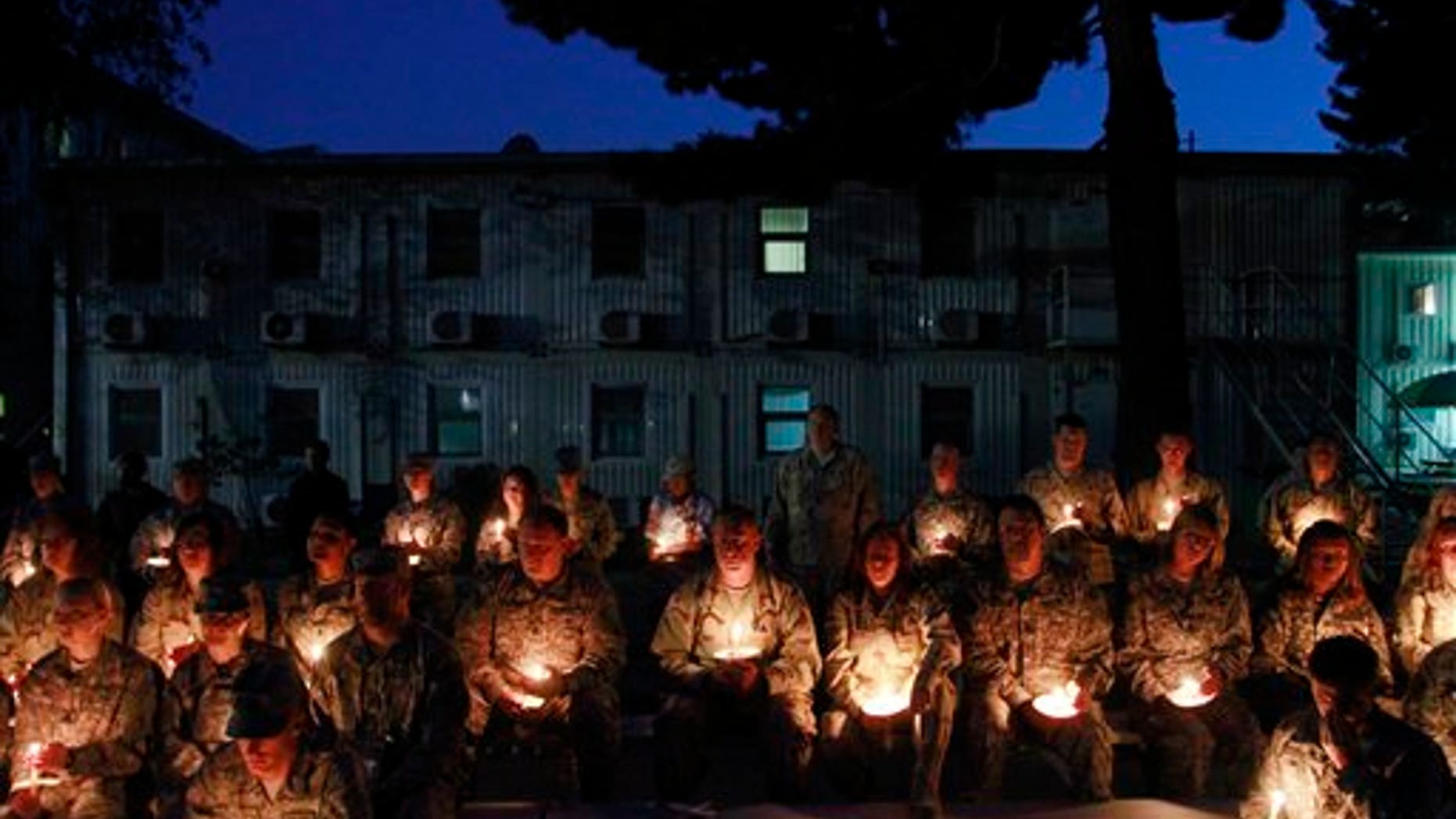 U.S. troops fighting in Afghanistan paused Monday to remember the fallen in Memorial Day services, as a war nearly a decade old trudges on.
Some prayed and held flag-raising ceremonies at dawn to recognize the more than 1,400 killed in combat here since the Sept. 11, 2001 attacks that triggered the war.
"We reflect on those who have gone before us. We reflect on their service and their sacrifice on behalf of our great nation," said Brig. Gen. Lewis A. Craparotta, who commands a Marine division in Afghanistan's southern Helmand province. "We should also remember those serving today who embody that same commitment of service and sacrifice. They are committed to something greater than themselves and they muster the physical and moral courage to accomplish extraordinary feats in battle."
The pause for remembrance comes as a suicide bomber blew up an explosives-packed car at the gates of an Italian military base in Herat Monday and a second explosion ripped through a busy downtown intersection in the normally peaceful western city, officials said. At least four Afghans were killed.
Five Italian soldiers were wounded, one of them gravely, Italian Defense Minister Ignazio La Russa said.
Attacks around Afghanistan have been increasing since the Taliban announced their spring offensive, with strikes on Kabul, the main southern city of Kandahar and in the north.
In the south on Monday, an Afghan wearing an army uniform shot and killed a NATO service member, the alliance said. NATO did not say exactly where the attack took place and it was not immediately clear whether the assailant was an Afghan soldier or a militant who had donned an army uniform to infiltrate NATO defenses. Previously, there have been cases of both.
In Iraq, an estimated 46,000 U.S. troops remain stationed there though officials say combat operations are over in a nation that saw more than 4,400 American troops die in combat. Under an agreement between Washington and Baghdad, the troops still in Iraq must leave by Dec. 31.
Black Hawk helicopters churned through the night sky Sunday as a strong wind coming over Kabul's surrounding mountains blew against the flickering candles that cast an orange glow on those gathered for a remembrance ceremony at the U.S. Army Corps of Engineers' headquarters.
Earlier in the day, those working there enjoyed one of their five days off a year from building police stations, dams and other projects in a nation torn by decades of war. Col. Thomas Magness, 47, of Los Angeles, Calif., urged the more than 100 corps employees and U.S. troops gathered there to remember the meaning of Memorial Day — advice that could carry home to America.
"While we were playing volleyball today, no doubt some soldier gave the ultimate sacrifice," the corps commander said.
Memorial Day, instituted to honor America's war dead, will be observed Monday with a public holiday. This Memorial Day comes before the 10-year anniversary of the Sept. 11 terror attacks, which ultimately brought U.S. troops into Afghanistan to unseat the Taliban government and hunt terrorist leader Usama bin Laden.
"Our country got attacked, and we're here to fight the war on it," said Roger Nowicki of the corps.
While Navy SEALs shot and killed bin Laden earlier this month in neighboring Pakistan, the U.S.-led war here continues. President Barack Obama plans to draw down U.S. troops beginning in July, while NATO has committed to handing over control of security in the country to Afghans by 2014.
In the meantime, the war grinds on toward its 10th year. The sharp pangs of loss are visible on some attending the event, like Maj. Erica Iverson, 33, of Vermillion, South Dakota. She spoke of serving as a casualty assistance officer after the 2010 death of Staff Sgt. Adam Dickmyer of Winston-Salem, N.C,, who once served as a sentinel at the Tomb of the Unknown Soldier at Arlington Cemetery.
Iverson's voice choked as she recounted how Dickmyer's mother fell off her chair in grief when her son's body returned to the U.S. His widow chased after the casket, screaming: "Don't leave me!"
"His wife has an empty house," Iverson said. "His entire unit came home today, and he didn't come with them."
Iverson said speechwriters for Obama called her in recent days, saying the president may honor Dickmyer in remarks on Memorial Day.
Increasingly skeptical American and Afghan publics question why U.S. and NATO forces remain there. The Taliban recently begun its spring offensive, as suicide bombings, roadside explosions and attacks in remote posts have returned with a frightening regularity.
"You don't get used to it because you're in a war zone," said civilian corps worker George S. Triggs, 54, of Louisville, Kentucky. "You learn to tolerate it and do the best you can."
Yet the worst stress, some acknowledged, is that of family members waiting at home for their loved ones to return. Lt. Col. Jon Chytka, 44, of Tabor, South Dakota recounted having to explain to his 5-year-old daughter why he had to leave.
He gave this answer: "I told her that before she was born, there were 19 people who killed 3,000."