U.S. Troops Celebrate Christmas Afghan Style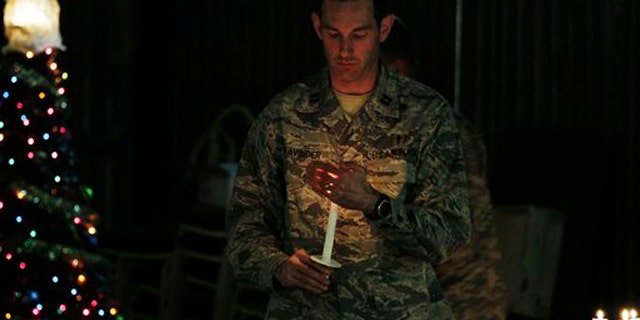 U.S. Marines in southern Afghanistan will treat Christmas like most other days – they will plan patrols and hope the day ends with no casualties.
The troops, who are at Patrol Base Talibjan living in the Taliban heartland of Musa Qala district, can expect a chemically heated meal of preserved meat and a few presents, AFP reported.
"I'm hoping it's going to be a quiet day and our guys can relax a little bit," said Staff Sgt. Josh McCall, 32, who told AFP he will call his wife and children at home in rural North Carolina on Saturday.
"We've got our Christmas tree set up. We had a couple of presents – I guess everybody got excited about them and opened them prior to Christmas – but aside from that, I just hope it's a quiet day."
The marines' surroundings are filled with small glimpses of Christmas – there is a plastic tree decorated with lights, a Christmas star made from snack food tubes, and large stockings hanging empty on a wire wall. The troops are also given a chance to contact their families at home via the Internet and satellite phone, AFP reported.
The lack of Christmas presents can be a humble reminder of the sacred holiday's true meaning, navy chaplain Father William Kennedy told AFP.
"Here we are, and there's a lot of dust and dirt out here and you take away a lot of the externals that people might have, a lot of the glitz, and it's a good time to be very simple and to say what is Christmas about," said Kennedy.
Afghans who support the coalition troops respect the holiday, Kennedy said.
"We're in a Muslim country, but the Muslims venerate Jesus as a prophet and the people I've met, whether it's the locals or ANA (Afghan army), the mullahs, they respect the fact that we're a religious people," Kennedy told AFP.
At another military base in Helmand, Afghanistan, more than 100 troops convene for a Christmas concert in a plywood chapel, as marines dressed in camouflage uniforms sing "O Come All Ye Faithful" to the tune of a military brass band.
The congregation prays to remember the 2,275 soldiers, marines, airmen and sailors who have died in the nine-year conflict, AFP reported.
The destruction of war often makes it difficult for soldiers to sustain their faith, Kennedy told AFP.
"(For some), it may cause them to reject their belief in God," he said.
"But for many others, it's a reinforcement because they make that conscious decision that in the face of all that they see that is so hard, they make that choice that they believe."