U.S. to Withdraw Strike Jets From Libya Mission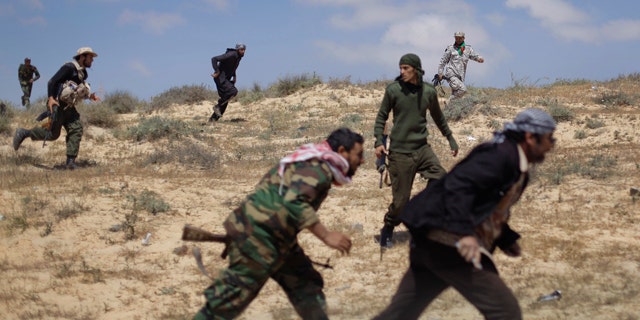 NEWYou can now listen to Fox News articles!
BRUSSELS – The U.S. military will pull its warplanes from front-line missions Monday and shift to a support role in the Libyan conflict, a NATO official said.
Britain, France and other NATO allies will now provide the fighter and attack jets to conduct intercept and ground attack missions as they enforce a no-fly zone over this North African country.
The hand-over is expected to take place later on Monday, a NATO official said.
"There won't be a capabilities gap," said the official who spoke on condition of anonymity because of regulations.
Last week, Secretary of Defense Robert Gates told Congress the U.S. would continue to provide assets that others don't have in sufficient numbers. These will likely include AWACS air surveillance planes, electronic reconnaissance aircraft and aerial refueling tankers.
American air power — including Air Force AC-130 gunships and A-10 Thunderbolts and Marine Corps AV-8B Harriers — will still be available to back up the allies in case of need.
U.S. aircraft currently account for 90 of the 206 planes deployed by NATO in the Libyan conflict.
Western jets have been hitting the forces of Libyan leader Muammar Qaddafi for more than two weeks. They initially targeted anti-aircraft missile defenses and quickly crushed a government offensive by destroying a large number of tanks, armored vehicles, artillery and other vehicles advancing into rebel-held areas.
But military experts say Qaddafi's forces have rapidly reorganized since then, shedding their heavy armor and relying on light forces to harry and repeatedly ambush the lightly armed rebels.