U.S. Teen Protests in Beijing for N. Korea Peace Park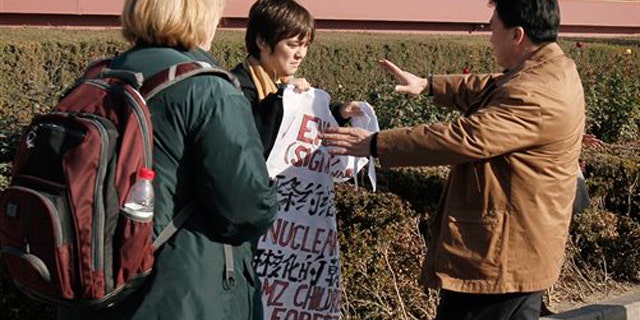 BEIJING -- A 13-year-old American boy campaigning to turn the demilitarized zone between North and South Korea into a peace park tried to get the Chinese president's attention Monday, staging a brief protest near Tiananmen Square before being led away by police.
Jonathan Lee unfurled a sign saying "peace treaty" and "nuclear free DMZ children's peace forest" as he stood outside Tiananmen Gate just north of the square in central Beijing.
The scene of numerous demonstrations over the years, the gate and square remain some of the most tightly controlled public spaces in China and all protests on it are quickly snuffed by security agents, sometimes violently. In 1989, tanks and troops rolled into the square to crush a student-led pro-democracy movement, killing at least hundreds of people.
Less than a minute after Lee began his demonstration, a man presumed to be a plainclothes police officer grabbed the boy's sign and waved away watching journalists, who had been contacted by Lee's family ahead of time. Three or four uniformed police officers then hurriedly escorted Lee and his mother away without commotion.
Police held the pair and a few hours later Lee and his mother, Melissa Lee, returned to their hotel where they were joined by the boy's father and sister. The family arrived unaccompanied at Beijing airport Monday evening to catch a Korean Airlines flight to Seoul, but declined to comment to The Associated Press.
The Lees' treatment by Chinese authorities was relatively mild compared with the often rough handling and swift, forced deportation given to most foreigners who try to stage protests in China. It was not clear if they were forced to leave the country or had already planned to do so.
The boy, from Ridgeland, Mississippi, is trying to persuade the leaders of North and South Korea, China and the United States to work for reunification of the two Koreas.
"Hopefully my picketing will touch them in a way, so they'll really consider peace, you know, between North and South Korea," Lee said in an interview Friday with Joel Clark, a documentary filmmaker who traveled to China with the Lees, that was provided to the AP. "I guess I'm just trying to do, you know, what God would want, making peace."
His Korean-born father, Kyoung Lee, said in a written statement Monday that his son has sent letters to President Barack Obama and South Korean President Lee Myung-Bak but had not been able to give a letter to Chinese President Hu Jintao. That, the father said, made the Tiananmen protest necessary.
Passionate and strong-willed, Lee is the latest, and perhaps youngest, activist to try to bring peace to the heavily militarized Korean peninsula, divided since the 1950-53 Korean War in which both the U.S. and China fought. The U.S. is Seoul's ally, stationing troops in the well-off nation, while China is the main economic and diplomatic backer of the isolated, impoverished North.
Lee made a rare visit to North Korea in August to propose his idea of a "children's peace forest" in the demilitarized zone and was taken on a tour of the 2.5-mile-wide buffer zone, which is sealed off with electric fences and studded with land mines. A hoped-for meeting with North Korean leader Kim Jong Il did not materialize, although Lee said the officials forwarded to Kim a letter from him.
A U.S. Embassy spokesman declined to comment on the case, saying Lee family members had not signed privacy waivers.