U.S. says Russian spy ship docked in Havana 'not alarming' as talks with Cuba begin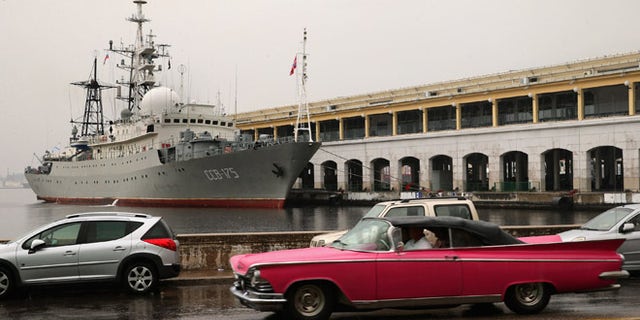 In what seems like a return to the Cold War-era, the specter of Russia is once again hovering over relations between the United States and Cuba.
As a high-level U.S. delegation met with their Cuban counterparts in Havana on Wednesday to begin two days of negotiations following December's historic thaw in relations between the Cold War foes, a 300-feet Russian intelligence warship motored into the port of Havana on Tuesday.
Despite speculation over both Cuban and Russian intentions, U.S. officials in Washington have downplayed the presence of the Russian vessel- named the Viktor Leonov CCB-175 - by saying it was perfectly legal and not at all out of the ordinary given the close relations that Havana and Moscow have had for decades.
"It's not unprecedented. It's not unusual. It's not alarming," a U.S. defense official told Agence France-Presse.
The docking of the Russian spy ship has caused many observers, however, to speculate about Cuba's willingness to reform and renew relations with their neighbor to the north.
"In his State of the Union Address, the president boasted about his strategy to deal with Russia, saying Russia was weak," Frank Calzon, the executive director of the Washington-based Center for a Free Cuba told Fox News Latino. "Apparently not so weak as to prevent Putin from projecting its power 90 miles from American shores and reestablishing a listening post and a naval presence on the island while American tourists dollars – approved by [U.S. President Barack] Obama, subsidize the regime."
Moscow and Havana remained close allies during the 30-year Cold War, until the collapse of the Soviet Union in 1991. After a gap of eight years – during the presidency of Boris Yeltsin (1991-1999) – the two countries resumed bilateral relations and military cooperation.
In December 2008, a Russian anti-submarine destroyer and two logistical warships docked in Cuba in a nonmilitary visit, the first of its kind since the Soviet Union's demise. The arrival was an extension of a tour that included stops in Venezuela and Panama and showed Moscow's desire to flex some muscle in the United States' backyard.
The Soviet Union and subsequently Russia used to have a huge signal intelligence center (SIGINT facility) in Lourdes, near Havana and only about 155 miles from the continental U.S. Russian President Vladimir Putin has denied media reports that his country was planning to reopen the SIGINT facility in Lourdes.
The Viktor Leonov CCB-175, a Vishnya-class intelligence ship, has a crew of around 200. This same ship, the AFP reports, docked in Havana in two separate occasions over a year ago. Those visits were also announced and lasted a few days.
While Obama announced sweeping changes in December to the U.S.'s policy toward Cuba, the talks currently taking place in Havana appear to be a test in the renewal of relations between the Cold War enemies.
A senior Cuban official cautioned, however, that restoring diplomatic ties with the U.S. wouldn't immediately lead to a full relationship between the Cold War foes after a half-century of enmity.
The message appeared designed to lower expectations, coming just before Obama spoke to a Capitol audience that included Alan Gross, whose release from Cuba in a prisoner exchange last month cleared the way for a new relationship.
Wednesday's conversations in Havana started with a continuation of efforts by the two sides in recent years to promote what the State Department calls "safe, legal and orderly migration," covering everything from the security of charter flights that travel regularly between Miami and Havana to rooting out fraudulent passports and partnering on potential search-and-rescue missions.
Thursday's talks are trickier, scheduled to deal with the mechanics of re-establishing a U.S. Embassy in Havana headed by an ambassador, and a Cuban Embassy in Washington.
Leading the U.S. delegation to Havana is Roberta Jacobson, the most senior American official to visit Cuba in 35 years. She arrives later Wednesday. The rosters on both sides include officials well-known to one another from years of cautious efforts to improve cooperation.
Immediate U.S. objectives include the lifting of restrictions on American diplomats' staffing numbers and travel inside Cuba, easier shipments to the current U.S. Interests Section and unfettered access for Cubans to the building. The Americans say restoration of full diplomatic ties depends on how quickly the Cubans meet the U.S. requests. Jacobson will also meet Cuban activists and civil society representatives.
The U.S. and Cuba haven't had diplomatic relations since 1961, soon after Fidel Castro seized power. Interests sections were established in the late 1970s as a means of opening a channel between the two countries, but any diplomatic goodwill they generated quickly evaporated.
Some changes have come in the last month. The Cubans last week released 53 political prisoners. Three days later, the Obama administration significantly eased travel and trade rules with Cuba.
The Associated Press contributed to this report.
Like us on Facebook
Follow us on Twitter & Instagram