U.S. Rejects Venezuelan Expulsion Of Diplomats And Claims Of Sabotage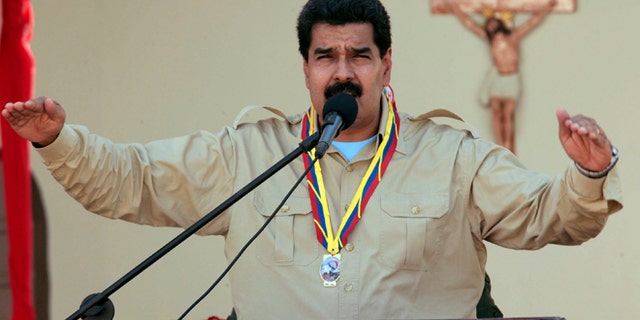 The U.S. government had a tepid reaction to Venezuelan President Nicolás Maduro after he expelled three U.S. diplomats he claimed were conspiring with his political opponents.
While there is speculation that Washington will expel Venezuelan charge d'affaires, Calixto Ortega, in the coming days - as is usual in these diplomatic rows – the U.S. has so far only issued a statement condemning Maduro's move and calling it unjustified.
"We completely reject the Venezuelan government's allegations of U.S. government involvement in any type of conspiracy to destabilize the Venezuelan government," a U.S. statement.
Along with the official U.S. condemnation, Sen. Marco Rubio of Florida said he was not surprised by the expulsions and predicted looming chaos for Venezuela that would be "sad" for its people.
The oil-rich OPEC member country has been plagued by worsening power outages since 2010. The opposition blames neglect and poor maintenance, while alleging mismanagement and corruption at struggling state-owned aluminum, iron and bauxite foundries in Bolivar.
Maduro blames sabotage by the "extreme right" for the blackouts and food shortages, but has provided no evidence. Like the late Venezuelan leader Hugo Chávez, he has a history of making unsubstantiated accusations against the United States and his political opponents.
Last week, Maduro said he had canceled a planned trip to New York to address the U.N. General Assembly due to an unspecified U.S. plot.
Since his election, Maduro has claimed five attempts to assassinate him have been foiled. In no instance did he provide evidence.
Venezuela and the United States have been without ambassadors since 2010, when Chávez refused to accept a newly named U.S. ambassador.
The last time Venezuela expelled U.S. diplomats was on March 5, when it ejected two military attaches for allegedly trying to destabilize the nation. That move came several hours before Maduro announced that Chávez had died of cancer.
Chávez governed Venezuela for 14 years, solidifying control of all branches of government as he won solid backing from the poor with generous social spending and blamed the United States for an unsuccessful attempt to overthrow him in 2002.
In recent years, however, Venezuela's woes have been compounded by corruption, rampant violent crime, worsening power outages and increasing shortages of foods and medicines.
At the same time, Maduro's government has been accused by international human rights and press freedom groups of cracking down on free speech and independent media political activity.
The Associated Press contributed to this report.
Follow us on twitter.com/foxnewslatino
Like us at facebook.com/foxnewslatino