U.S. Praises Mexico For Drug Kingpin Arrest, Applauds Law Enforcement Cooperation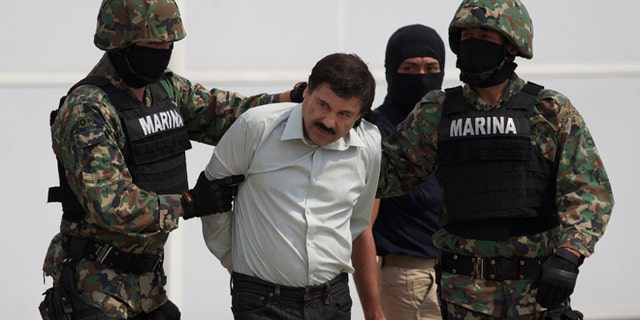 WASHINGTON (AP) – The relationship between U.S. law enforcement and their counterparts in Mexico has never been stronger, and the arrest of Mexico's most wanted drug cartel leader earlier this year is proof of that, a senior Homeland Security Department official told Congress on Wednesday.
James Dinkins, executive associate director for homeland security at U.S. Immigration and Customs Enforcement, told the House Homeland Security Committee that while ICE, the Drug Enforcement Administration, the U.S. Marshal Service and other U.S. agencies helped end the decade-long manhunt for Joaquin "El Chapo" Guzman Loera, the operation was led by Mexico and should be a considered a win for that country. It's a victory that shows the strength of the relationship between law enforcement in the two countries, he said.
"We have the best relationship with our Mexican counterparts that we've ever had," Dinkins said. "They have proven to be a key partner of ICE."
Dinkins said the relationship goes beyond the targeting of Mexico's top drug cartel leaders to include investigations and arrests of child predators and the takedown of transnational tunnels used to smuggle drugs across the border. Dinkins said Mexican authorities reacted "within minutes" of being alerted to a tunnel recently discovered at the border. That operation led to the seizure of millions of dollars worth of drugs and three arrests.
The Guzman arrest "sent a clear message to the world that Mexico is willing and able to tackle the most sophisticated drug cartel in the world," Dinkins said.
Alan Bersin, the Homeland Security Department's assistant secretary of international affairs, said Guzman's earlier this year and the apprehension of the leaders of the ruthless Los Zetas cartel last year is a clear sign that Mexico's President Enrique Pena Nieto is focused on tackling problems that impact both countries.
In his written testimony, Bersin also highlighted previous operations that targeted drug organizations and an agreement to begin repatriating criminal immigrants to the interior of Mexico, rather than deporting them to violent border cities.
Guzman was arrested in a pre-dawn raid at a high-rise condominium building in the coastal city of Mazatlan, Mexico, in late February. A wiretap being monitored by ICE agents in Southern Arizona provided the final clue to Guzman's whereabouts days after he narrowly avoided capture in Culiacan, the capitol of Mexico's Sinaloa state.
Dinkins did not discuss on Wednesday how U.S. authorities helped in the capture, instead giving credit to the Mexican military unit that captured Guzman without gunfire.
Since Guzman's arrest some lawmakers have pressed for his extradition. He faces multiple indictments in the United States, including in Chicago, New York and San Diego.
John Feeley, principal deputy at the State Department's Bureau of Western Hemisphere Affairs, said the Justice Department is the lead agency in asking for Guzman's extradition but the U.S. "will be in discussions with the Mexicans."
"But it may not result in immediate transfer," Feeley said.
Rep. Paul Broun, a Georgia Republican, complained that those discussions should already be taking place. Broun said he worried that Mexico may be unable to keep Guzman jailed or prevent him from continuing to run his drug empire from jail.
Guzman was convicted in Mexico of drug and other offenses in the early 1990s and sentenced to 20 years in prison. He escaped in 2001.
"This is a question of trust and confidence in our partnership," Feeley said. "We have every trust and confidence that the Mexicans are able to hold him."
U.S. law enforcement officials and the Homeland Security Department have long touted the relationship with their Mexican counterparts. But in the early days of Pena Nieto's term in 2013, his government ordered that all contact with U.S. law enforcement would go through "a single window." Sergio Alcocer, deputy foreign secretary for North American affairs, said at the time that all contact would be channeled through the federal Interior Ministry, the agency that controls security and domestic policy.
It was a dramatic shift from the direct information sharing that went on among agencies during President Felipe Calderon's administration.
Dinkins did not address that new policy Wednesday, saying only that the relationship continues to grow.
Follow us on twitter.com/foxnewslatino
Like us at facebook.com/foxnewslatino