U.S. Oil Companies Waiting To Pounce On Mexican Fields As Country Opens Industry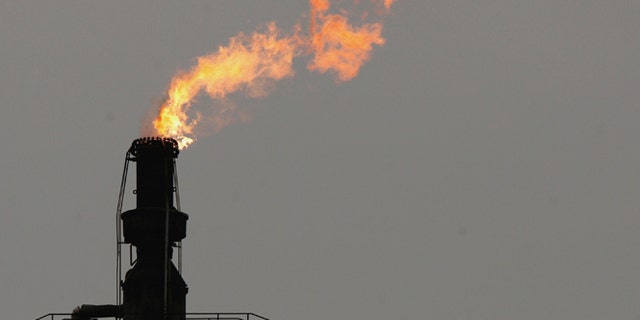 NEWYou can now listen to Fox News articles!
As Mexico charts a new economic course by opening of parts of the country's oil fields to foreign investment, some U.S. petroleum companies are waiting keenly to see which parts of the country's resources they will be permitted to bid on.
While the Mexican government announced Wednesday that the majority of its active oil fields will remain in the hands of the state-run Petróleos Mexicanos, or Pemex, it added that four-fifths of the country's prospective resources – including those in the Gulf of Mexico – will be open for foreign bids.
"Today marks a watershed ... a change in the energy paradigm. It is a change in the way we relate our national identity to energy, to bring it up to date with realities of the 21st century," Energy Secretary Pedro Joaquín Coldwell said at the signing ceremony at Mexico's National Palace.
When President Enrique Peña Nieto signed into law the country's historic oil reform last week, it signaled a radical shift in how Mexico will do business on the world stage and ended the 76-year long Pemex monopoly on the oil business there. While many Mexicans balked at the move – claiming it took away part of the country's identity – the reform bill is expected to bring in as much as $20 billion in additional foreign investment a year.
"This is definitely a good thing for Mexico," Claudia Pessagno, a senior equity analyst at HIS who focuses on Latin America, told Fox News Latino. "Pemex can't really handle the load and they don't have the technology to develop new sites as they stand right now."
The country is now attempting to drum up foreign investment, with Pemex CEO Emilio Lozoya telling the Wall Street Journal that his company is inviting other oil companies to work on at least 10 big projects to which it has exclusive rights – a move that was not only unheard of but illegal before the reform was passed. These projects are most likely to include work on already existing oil fields and developing deep water drilling projects.
Some U.S. companies that look poised to jump into the Mexican market are ExxonMobil and Chevron. OG Resources Inc. and ConocoPhillips have also expressed interest in developing deep water wells in the Gulf of Mexico.
"We will pursue potential investment opportunities in Mexico that are competitive with other opportunities around the world," a spokesman for ExxonMobil told the Wall Street Journal.
Branching off into already existing markets and proven reserves fits in line with ExxonMobil's current strategy. The company's capital expenditure – or funds used to acquire or upgrade physical assets – has climbed to $33.7 billion in recent years and ExxonMobil wants to invest in 21 more projects, with capital expenditures expected to increase to $38 billion in 2017.
ExxonMobil had already signed a technical collaboration agreement with Pemex last year before the energy law was even approved by Peña Nieto in December.
Chevron made known its plans back in May, when Chevron's president of Latin America and Africa announced the company was in talks with Pemex for exploration opportunities in deep water, shallow water and/or shale.
"We look for the opportunity that brings the most value to the Mexican government, the Mexican people, and our shareholders," Moshiri said, according to Bloomberg. "We are a huge company. We can invest money in conventional, deep water, or shallow water. What drives our decision is really to see what is the best for everybody."
Pemex believes that while it lacks the technology and financing to explore the Gulf of Mexico, it can aid U.S. companies thanks to its knowledge of the country's subsoil geography.
"Mexico has not been able to tap into its resources," Pessagno told FNL. "It costs a lot of money and a lot of technological know-how."
Mexico hopes that the foreign investment in its oil sector will help bump back up its lagging production to levels on par with its heyday in 2004 when the country was producing 3.4 million barrels a day. With the reform, the government hopes to increase output to 3 million barrels by 2018 and 3.5 million by 2025, by attracting private companies with the expertise and technology to exploit the country's vast shale and deep-water reserves.
The Associated Press contributed to this report.