U.S. Officials Confirm Illegal Border Incursion By Mexican Soldiers Allegedly Pursuing Smugglers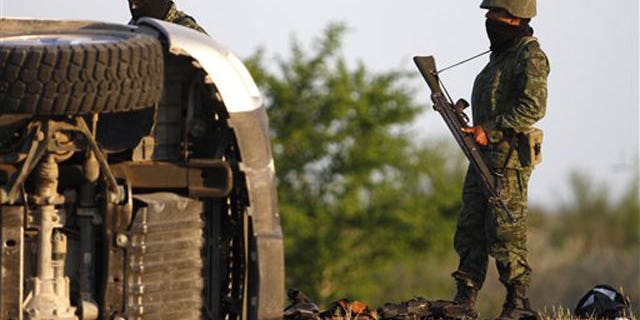 After a series of denials, Mexican authorities have finally admitted that two heavily-armed and camouflaged soldiers crossed over the border into Arizona and drew their weapons in an edgy standoff with U.S. Border Patrol agents in January.
According to documents obtained by the Los Angeles Times, the Jan. 26 showdown was confirmed in a Border Patrol foreign military incursion report and confirmed in a separate letter from R. Gil Kerlikowske, commissioner of U.S. Customs and Border Protection, the Border Patrol's parent agency.
The report describes that in the incident, the two Mexican soldiers – who accidentally misidentified themselves to U.S. border agents – claimed to be pursuing drug traffickers and only went back south of the border once U.S. border agents called for backup.
U.S. officials said that this is one of the most serious territorial incursions in recent memory and even though weapons were not fired, the standoff highlights growing tensions between Washington and Mexico when it comes to patrolling the border regions. U.S. officials added that the recent incursion was one of nearly two dozen by Mexican soldiers into southern Arizona over the last four years.
Mexican officials from the Embassy in Washington D.C. confirmed early Tuesday to journalists that the two men were soldiers, after previously claiming that the men were drug smugglers in military uniforms. The soldiers purportedly were tracking two men carrying backpacks full of drugs and after retrieving the backpacks the soldiers found themselves on the U.S. side of the border.
"Those individuals were part of a counter-narcotics operation, which had taken place a few minutes prior on the Mexican side of the border," said Ariel Moutsatsos, spokesman for the Mexican Embassy, according to the Los Angeles Times. "The two members of the Mexican army did not see any sign notifying them that they were crossing the border."
Moutsantos also added that Mexican authorities have run into U.S. border agents crossing the border into the U.S.'s southern neighbor, a claim previously made by Mexico on other occasions but usually denied by the U.S. government.
"Both U.S. and Mexican agents have sporadically and accidentally crossed our common border during their patrols," he added. "Both countries understand that this is something that happens as part of normal activities."
The U.S. government has so far chalked up the incident as an unfortunate but unintentional event, seemingly downplaying any negative political ripple effect.
"We have raised the issue of incursions onto U.S. territory with Mexican authorities both in Washington and in Mexico," a U.S. Embassy official in Mexico City told the Los Angeles Times. "We will continue to do so. There have been incursions by the Mexican military but they were unintentional. U.S. border officials work closely with their Mexican counterparts to ensure respect for the border and to return them quickly to Mexican territory. The bilateral collaboration in these incidents testifies to the strength of our security cooperation."
While the Mexican government's confirmation appears to rule out any official misconduct, some border security experts said that drug smugglers have been known to hire soldiers to assist in their trafficking operations – luring in military members with promises of quick money.
"It's pretty easy to co-opt them," said James Phelps, a border and homeland security professor at Angelo State University in San Angelo, Texas. "Many are essentially a functional asset of the cartels."
Follow us on twitter.com/foxnewslatino
Like us at facebook.com/foxnewslatino