U.S. files extradition request for Mexican drug lord Joaquín 'El Chapo' Guzmán, source says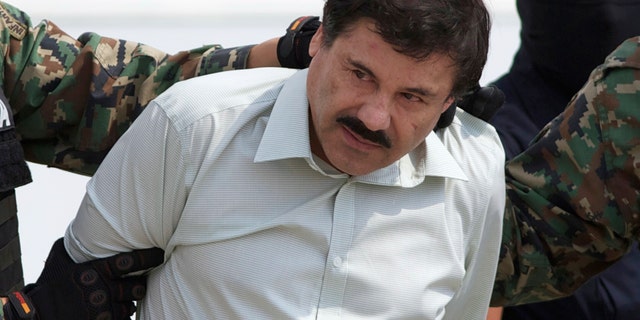 NEWYou can now listen to Fox News articles!
The U.S. government has officially filed an extradition request to Mexico for notorious drug lord Joaquín "El Chapo" Guzmán, an informed source told Forbes.
The financial magazine's website said that the extradition request for the Sinaloa cartel boss – which has been rumored to be on its way for weeks – was delivered last week to Mexico's Foreign Ministry by the U.S. Embassy. The U.S. government, however, does not comment on pending extradition requests nor would it confirm or deny that a request might even exist. Eduardo del Rio, Director of Communications at the Mexican Foreign Ministry, did not answer Forbes' request for comment.
The extradition request comes after a week of speculation, after Mexican Attorney General Jesús Murillo Karam made contradictory statements about whether or not his country would send the notorious drug lord to the U.S. to face a host of charges.
At least seven U.S. federal courts have pending complaints against Guzmán accusing him of masterminding operations that smuggled drugs into the country.
Murillo Karam at first appeared open to the idea of sending Guzmán to the U.S. to face charges on drug trafficking, racketeering, money laundering, kidnapping, conspiracy to commit homicide and homicide. But last week he seemed to recant on that, saying that the extradition of Guzmán would only take place after he served time in a Mexican prison.
"I could accept extradition, but at the time that I choose. 'El Chapo' must stay here to complete his sentence, and then I will extradite him," Murillo Karam told The Associated Press in an interview. "So about 300 or 400 years later — it will be a while."
Murillo Karam later clarified that he was referring to the time that it would take for Guzmán to complete his sentences "given all the crimes he's being prosecuted for."
Guzmán was arrested by Mexican forces last February in the Pacific Coast tourist resort of Mazatlán, ending years on the run after a daring prison break in 2001. He is being held at a maximum-security prison near the capital.
Murillo Karam said sending Guzmán to the United States would save Mexico a lot of money, but keeping him here is a question of national sovereignty.
There is concern that, given the Sinaloa cartel's vast wealth and political sway in Mexico, Guzmán could escape from prison in Mexico. After being arrested in Guatemala in 1993, Guzmán pulled off a Hollywood-style jailbreak when he escaped from the Puente Grande maximum-security prison in the western state of Jalisco on Jan. 19, 2001.
Murillo Karam dismissed concerns that Guzmán could escape a second time. That risk "does not exist," he said.