U.S. Deports Drug 'Queen Of The Pacific' Back To Mexico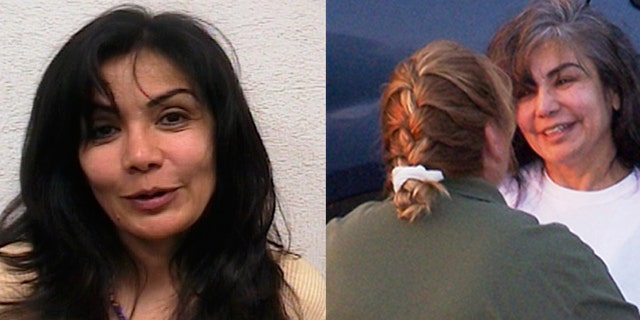 Known for her good looks and saucy attitude, purported drug cartel operator Sandra Avila Beltran, known as the "Queen of the Pacific," was deported to Mexico from the U.S. on Tuesday to face money-laundering charges.
The once stunning beauty, who was arrested in 2007, looked haggard and had gray streaks in her once-black hair in a photograph published by local media when she was taken off a plane at the Mexico City airport.
She wasn't seen again, and the Attorney General's Office later said in a statement that she had been quickly whisked off to a prison in the Pacific coast state of Nayarit to await trial on the money-laundering charge.
She was given a quick medical checkup at the airport, where she arrived on a chartered flight that flew in migrants being repatriated to Mexico from El Paso, Texas.
Avila, 52, has been in custody since 2007 when she was charged with conspiracy to traffic drugs and organized crime. A Mexican judge acquitted her of those charges in December 2010, but she remained in custody and was extradited to the U.S. a year ago.
She pleaded guilty in April to being an accessory after the fact in a criminal organization that included Juan Diego Espinosa Ramirez, her boyfriend at the time. Espinosa pleaded guilty in 2009 to cocaine trafficking charges.
A statement signed by Avila said she provided money to Espinosa for travel and lodging so he could evade arrest by authorities between 2002 and 2004.
Avila was sentenced to 70 months in prison in U.S. District Court in Miami last month and released almost immediately for time served in Mexico.
Mexico had used a little-known bilateral agreement that allows prosecutors to suspend local charges, extradite a suspect to the United States for trial, and then reactivate the charges once the suspect returns.
Her lawyer, Jorge Alfonso Espino, said Avila Beltran no longer faces organized crime charges.
The U.S extradition request had said she belonged to an organization that trafficked cocaine from Colombia to the United States. U.S. prosecutors originally charged that she helped store and move at least 100 kilograms of the drug from Mexico to the United States.
At the time of her earlier arrest, prosecutors said Avila spent more than a decade working her way to the top of Mexico's drug trade, seducing several notorious kingpins and uniting Colombian and Mexican gangs.
Avila comes from a family of drug lords. She is the niece of Miguel Angel Felix Gallardo, "the godfather" of Mexican drug smuggling, who is serving a 40-year sentence in Mexico for drug smuggling and the murder of DEA agent Enrique Camarena in Mexico's western Jalisco state. Another uncle, Juan Jose Quintero Payan, was extradited to the U.S. on drug-trafficking charges.
Based on reporting by the Associated Press.
Follow us on twitter.com/foxnewslatino
Like us at facebook.com/foxnewslatino