U.S. brokered deal to help wife of Cuban spy become pregnant through artificial insemination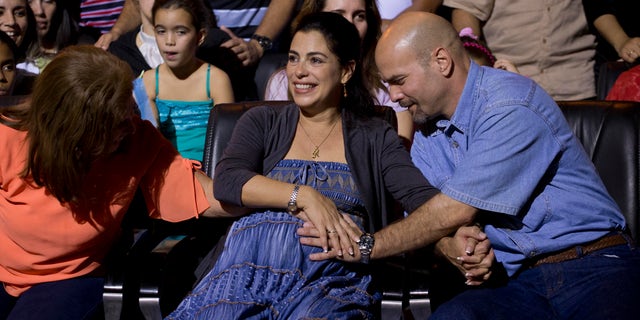 NEWYou can now listen to Fox News articles!
Sen. Patrick Leahy (D-Vermont) was traveling back and forth to Cuba in secret negotiations to try and secure a release for American prisoner Alan Gross when a woman approached him with an impassioned plea: she wanted a child and she needed his help.
The women, the wife of one of the Cuban spies imprisoned in the U.S. on espionage charges, was in her early 40s and said she was almost out of time. According to Tim Rieser, Leahy's foreign policy aide, she was "clearly desperate."
That began an unusual effort on the part the senator, who is chairman of the State Department and Foreign Operations for the Appropriation Subcommittee, and his aide to help carry out an artificial insemination using the semen of a prisoner sentenced to two life terms and transporting it hundreds of miles away to impregnate his wife. The insemination happened in Panama, where the wife was flown to have the procedure.
"As parents and grandparents themselves they felt just on a human level wanted to help this woman," Rieser said. "Really as simple as that."
The U.S. involvement in the artificial insemination of one of the so-called Cuban Five, one of three jailed spies released last week during a prison swap, added a new wrinkle to the alarming announcement that U.S. and Cuba had been secretly negotiating a historic thaw in relations. Gerardo Hernandez, now 49, was serving time in a federal prison in California.
The State Department and the Bureau of Prisons were made aware that Leahy's office was facilitating the pregnancy. Cuba covered the costs for everything, Rieser said. The senator's aide said he also helped another member of the "Cuban Five" have access to medicine he needed. He said there was no quid pro quo, however.
Adriana Perez had only seen her husband once in 16 years so he also helped her obtain a visa to visit him. There are no conjugal visits in federal prison. What she wanted desperately, Rieser said, was to have a baby.
"She was afraid ... she wasn't able to have a child," he said. Officials identified a precedent where artificial insemination had been permitted for an inmate.
But the move was condemned by Miami Congressman Ileana Ros-Lehtinen, who tweeted that the U.S. "should not have facilitated in vitro procedures [for] convicted assassin Gerardo Hernandez."
Hernandez was convicted for the deaths of four Cuban exiles whose plane was shot down near Havana in 1996.
The sister of one of the victims, Armando Alejandre Jr., also criticized the move.
"To me, it's incredible," Maggie Khuly told NBC News. "I no longer know what to think of my government. People in Cuban jails are not allowed visits, are in horrible conditions, and here we are going way overboard so that this guy has a child? It doesn't make any sense."
Gross' wife, Judith, was allowed to visit her husband in Cuba as often as she wanted. That Perez could not see hers in the U.S. was "punitive," Rieser said.
The senator had been trying to negotiate with Cuba and felt taking a hard-line stance would not work. So they wanted to keep the tone positive during delicate negotiations -- and that's why, he said, they decided to make this humanitarian gesture.
"It was a humane response to an appeal for help by a woman who had no expectations of ever seeing her husband released from jail and who desperately wanted a child, at a time when we were doing whatever we could to encourage the Cubans to improve Alan Gross' treatment," Rieser said. "It not only helped Alan Gross but also contributed to a better atmosphere for the negotiations which ultimately resulted in his release."
The first procedure earlier this year did not work. The second time, it did. Perez is now due to have a girl in about two weeks.
The Associated Press contributed to this report.