U.S. Army vet violently harassed by teens on UK trolley: 'You dirty little immigrant'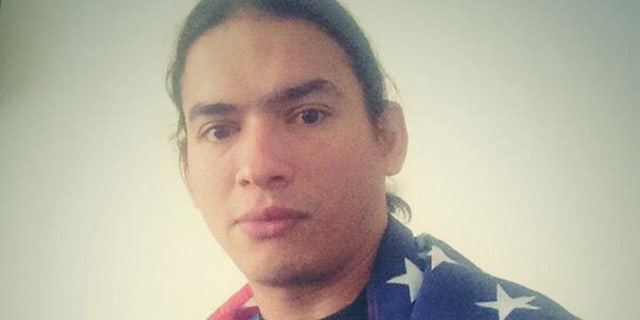 A U.S. Army veteran was hit with an onslaught of racial and xenophobic abuse from a group of British teenagers after telling them to watch their language on a trolley car.
Juan Jasso, a former soldier from Texas who has lived in the U.K. for the last 18 years, was commuting on a trolley in Manchester Tuesday morning when he asked the teenagers to stop swearing in front of children.
Instead of quieting down, however, the rowdy teens turned on Jasso, with one saying "F--- get off the tram now. Don't chat s--- or get deported."
Another teen screamed "Get back to Africa."
"You are extremely ignorant and not very intelligent, you know that?" Jasso said in retort, according to The Telegraph.
One of the guys, all of whom appear to be drinking beer while on the trolley, approaches Jasso and flicks fluid from his can at him before exiting the tram.
An obviously angered Jasso says "seven years in the military" while approaching the hagglers before being turning back into the bus.
The youths are heard while walking away shouting: "Salford! F****** immigrant!"
Police in Great Manchester have arrested two men aged 20 and 18 and a 16-year-old boy on suspicion of affray and remain in police custody for questioning.
"We are aware of a video of a hate incident that has surfaced online this morning," Chief Inspector Gareth Parkin, of Greater Manchester Police, told The Telegraph. "This is a disgusting display of abuse which quite frankly has no place in society."
He added: "All hate incidents are treated with the utmost severity and this behavior will not be tolerated in Greater Manchester."
On a social media post late Tuesday, Jasso thanked the community for the support.
Bit of a surreal day. Thanks 4 the support everyone. I was just doing what I thought was right. Bring on tomorrow.
Interviewed by Channel 4 News, Jasso – a sports lecturer at a higher education college in Manchester – said this is only the second time in the years he has lived in the U.K. that he has encountered such overt racism. He added that he believes the recent vote in the U.K. to leave the European Union has stirred xenophobic passions there.
"I think there was an undertone there before this Brexit and the voting within the referendum, but I think the result maybe has pushed people to somehow justify now that they think it's OK now to act out in this way, which obviously it's not," she said.
He added: "[The vote] hasn't affected me in any way, shape or form, because I have a little girl here now and I now consider this my home."
Like us on Facebook
Follow us on Twitter & Instagram