U.S. adds 'New Generation' cartel to Narcotics Kingpin list after police massacre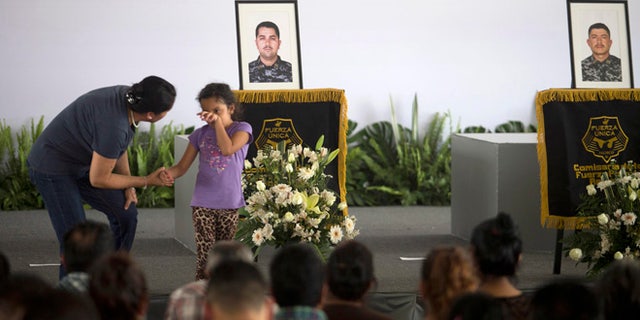 MEXICO CITY (AP) – The U.S. Treasury Department announced sanctions on Mexico's violent and growing Jalisco New Generation cartel a day after the gang mounted a bloody ambush that killed 15 Mexican police officers.
On Monday, the Jalisco cartel stopped a police convoy on a rural highway and opened fire, killing 15 officers and wounding five in the bloodiest single attack on Mexican law enforcement in recent memory.
The cartel and a related gang, the Cuinis, were placed on the U.S. Foreign Narcotics Kingpin list Tuesday. The designation seizes the property and interests of the gangs and their leaders in the United States and prohibits U.S. citizens from engaging in transactions with them.
"These two organizations have rapidly expanded their criminal empire in recent years through the use of violence and corruption," said John E. Smith, acting director of the Treasury Department's Office of Foreign Assets Control. "They now rank among the most powerful drug trafficking organizations in Mexico."
The cartel originated in Jalisco, the western state once dominated by Sinaloa cartel leader Ignacio "Nacho" Coronel until his death in a shootout in 2010. But since then, the cartel "has expanded beyond Jalisco to other Mexican states, including Michoacan and Colima," Smith's office wrote in a press statement, and "has also further developed its ties to other criminal organizations around the world, including in the United States, Latin America, Africa, Europe, and Asia."
Monday's assault on a Jalisco state police convoy on a rural road between the Pacific coast resort of Puerto Vallarta and Guadalajara, the state capital, was the latest in a series of ambushes and attack by cartel gunmen that some analysts say amounts to a military-style offensive against the government.
While officials have been loath to publicly name the cartel involved in Monday's attack, an official of the state prosecutors' office who was not authorized to speak on the record, confirmed that all evidence indicates that Jalisco New Generation carried out the ambush, as well as a previous string of attacks over the last two weeks. Last week, cartel gunmen made a failed attempt to kill state Security Commissioner Alejandro Solorio, and on March 19, they ambushed a federal police patrol, killing five officers.
Mexican security expert Jorge Chabat said the attackers appeared to be aimed at "intimidating the government" and as a reprisal for government efforts against the cartel.
Earlier, Solorio had said the assassination attempt "was the first response by organized crime to the clash in which state security forces killed the criminal Heriberto Acevedo Cardenas, nicknamed 'El Gringo,'" a top Jalisco cartel leader.
Gunmen from other cartels have been known to open fire on police and soldiers, but it is usually because they are being pursued and want to escape capture.
The cartel has been fighting the Knights Templar carter for territory in neighboring Michoacan state, which the Knights Templar once controlled, building an economic empire based on extortion, drug trafficking and illegal mining until police and vigilantes largely dismantled the gang in 2013 and 2014.
In November 2013, Jalisco state authorities linked Jalisco New Generation to dozens of bodies discovered in mass graves in the community of La Barca near Lake Chapala, which is popular with Canadian and U.S. expatriates and tourists.
Officials believe the cartel was behind the dumping of 35 bodies on a busy street in the Gulf coast city of Veracruz in 2011, during a turf battle with the Zetas drug gang.