U.N. to Unfreeze $1.5 Billion in Libyan Assets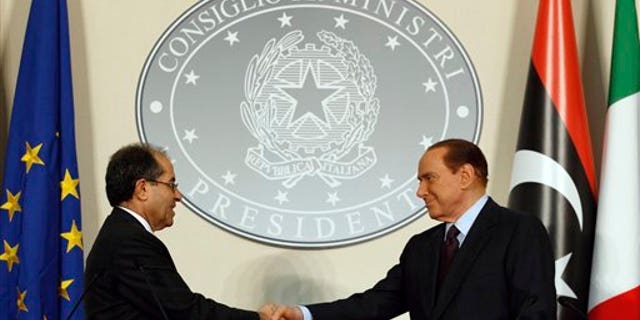 NEWYou can now listen to Fox News articles!
UNITED NATIONS – The U.S. and South Africa reached a deal Thursday that will release $1.5 billion in frozen Libyan assets in American banks which the U.S. is earmarking for the cash-strapped rebels fighting to oust Muammar Qaddafi.
The Libyan opposition said it urgently needs at least $5 billion in frozen assets to pay state salaries, maintain vital services and repair critical oil facilities.
Analysts estimate that as much as $110 billion is frozen in banks worldwide and several European nations are also seeking to release funds, including Britain, France and Italy, which announced Thursday it wants to release euro350 million ($505 million) for the rebels.
South Africa had blocked agreement in the Security Council committee monitoring sanctions against Libya on unfreezing the $1.5 billion in U.S. banks over concerns that it implied recognition of the opposition National Transitional Council. South Africa has not recognized the rebel government and said neither has the African Union nor the United Nations.
Mark Kornblau, spokesman for the U.S. Mission to the United Nations, said the U.S. never intended its request to unfreeze the Libyan assets to imply recognition of any government. He said the wording has been changed to say that the money will go to "relevant authorities" -- and the U.S. will earmark the $1.5 billion for the National Transitional Council.
The United States had called for a vote Thursday afternoon on a Security Council resolution that would have authorized the release of the fund unless South Africa changed its mind and joined consensus in the sanctions committee. While the committee requires unanimous agreement of all 15 council members, a resolution does not. South Africa lifted its objection.
U.S. Secretary of State Hillary Rodham Clinton said she welcomed the release of the $1.5 billion in Libyan assets frozen in the U.S.
"This money will go toward meeting the needs of the people of Libya," Clinton said in a statement Thursday night. "We urge other nations to take similar measures. Many are already doing so."
A senior U.S. administration official, speaking on condition of anonymity because he was not authorized to speak publicly, said late Thursday that the money will be available "in the coming days."
The U.N. Security Council in February and March ordered all countries to freeze billions of dollars in assets belonging to Qaddafi, key relatives, and members of his regime as well as the Libyan central bank, Libyan investment organizations and the National Oil Corporation. The aim was to punish the regime and cripple its response to protesters demanding change.
With Qaddafi in hiding and the rebels poised to take control of Libya, Britain, the U.S., the European Union and Turkey have called for the quick release of assets to help the National Transitional Council to rebuild the Libyan economy, restore essential services, reform the police and the army, and pay government salaries.
Although the U.S. circulated a Security Council resolution to unfreeze some Libyan assets in America -- which turned out not to be needed -- council diplomats said a second resolution to be circulated soon will cover the U.N.'s mandate in a post-Qaddafi Libya and proposals to unfreeze assets in other countries.
Meanwhile, the international community was moving ahead on planning for a post-Qaddafi era.
Senior officials from more than 30 nations were meeting Thursday in Istanbul to discuss ways of assisting Libya's opposition in the post-Qaddafi era and the unfreezing of billions in cash and assets. U.N. Secretary-General Ban Ki-moon planned to hold a videoconference Friday with the heads of the Arab League, African Union, Organization of Islamic Cooperation and European Union.
And French President Nicolas Sarkozy was in Beijing urging a once reluctant China to join Western nations in rebuilding Libya and inviting Beijing to an international conference on Libya's future in Paris next Thursday.
"We need urgent help," Mahmoud Jibril, head of the National Transitional Council said in Milan Thursday after meeting with Italian Prime Minister Silvio Berlusconi and before heading to the Istanbul meeting. "We are here for an urgent call. There are high expectations. While the liberation of Tripoli is in the last and final stages, the battle is still going on."
Deputy Secretary of State Bill Burns, who led the U.S. delegation in Istanbul, said the meeting was characterized by an "upbeat spirit and recognition of what our combined efforts have helped to achieve."
He said the council has committed to pursuing democratic reform, upholding Libya's international obligations and respecting human rights as well as to distribute funds in a transparent manner that addresses the needs of the Libyan people.
"Now more than ever, we will look to the ... council to live up to those responsibilities and to implement its transition roadmap," he said. "It is critical that the (NTC) continue to engage with stakeholders across Libya."
Jibril warned that stability and security were at risk if rebel salaries, unpaid for four months, weren't delivered. Among the other urgent priorities, he said, were collecting weapons, rebuilding a justice system and national army, providing care to the wounded in Libya and abroad, and rebuilding power stations.
A member of Libya's rebel Cabinet said the transitional government was moving immediately to Tripoli from its eastern stronghold city of Benghazi.
"It's clear that the NTC is moving forward to form its government there, and to get its people in place early on, and the U.N. will be there with them, and right after them as conditions permit," U.N. political chief B. Lynn Pascoe told reporters earlier, after briefing the Security Council on Mideast issues.
The United States had been trying for more than two weeks to get the Security Council sanctions committee to unfreeze the U.S. assets to pay for immediate humanitarian aid, but South Africa objected.
British Prime Minister David Cameron called South African President Jacob Zuma and they "agreed that Libya now has the opportunity for transition to a peaceful, democratic and inclusive government and they discussed how the international community should actively and urgently support this process," Cameron's office said in statement Thursday.