U.N. agencies in North Korea carrying in cash to keep operations afloat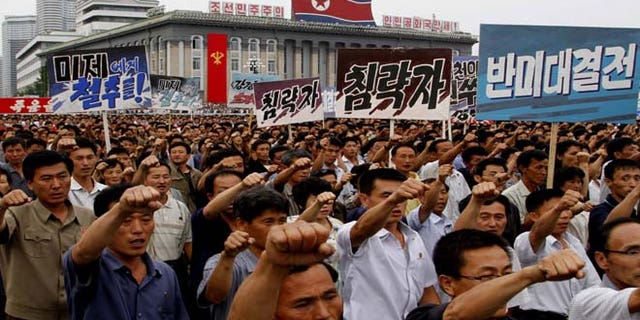 United Nations agencies working in North Korea, which is under harsh Western sanctions, are facing a financial crisis of their own, leading at least some of them to carry in cash from neighboring China to keep their struggling operations afloat.
According to a memo circulated last month by the treasurer of the United Nations Development Program (UNDP), which serves as the lead operational agency for the U.N. in North Korea, the U.N.'s flagship anti-poverty agency is no longer able to transfer money into its North Korean accounts, "due to the impact of sanctions and the closure of key banking channels."
The key banking channel in question is North Korea's Foreign Trade Bank (FTB), an institution that was placed under U.S. financial sanctions in March for its role in financing the illegal nuclear program. The FTB has long been the main financing channel for hard currency transfers into North Korea and the chief U.N. financial pipeline for its operations in the country.
European nations joined the U.S. effort, but in a surprise development, the sanctions against the FTB were also joined by China in May, a month in advance of Chinese President Xi Jinping's two-day summit with U.S. President Barack Obama.
As China is North Korea's economic mainstay and the state-owned Bank of China is its chief financial partner, the squeeze from Beijing put a real crimp in the North Korean regime's ability to convert local currency into hard cash, and vice-versa.
The impact of the situation spreads beyond UNDP, as the development agency serves as the de facto general manager and coordinator of the half-dozen U.N. agencies that still operate in North Korea, and another eight that coordinate work from outside the country, according to UNDP's website.
One of the chief effects, however, is on local staff, who carry out much of the U.N. agencies' work on the ground. "We have been facing serious problems in transferring salaries to our staff," says one U.N. official with knowledge of operations in the country, "which we used to handle through UNDP local currency disbursement services."
According to the same official, the problem is being handled in the short term by a U.N. official in North Korea ferrying in cash from China, "which he can collect each time he takes R&R."
The memo does not go into details about the full effects of the cash window shutdown, and in response to questions from Fox News, a spokesman for U.N. Secretary General Ban Ki-moon said only that "the United Nations agencies continue to carry on their important work in support of vulnerable people in DPRK."
At least one other window still remains open for the U.N. to obtain hard currency, however, though it is a narrow one. The World Food Program, which runs a nutritional support program aimed at some 2.4 million malnourished North Korean mothers and small children, is still able to transfer funds to North Korea through corresponding banks in Russia, and is now extending the service to its cash-strapped U.N. partners.
Says a knowledgeable U.N. official: "Other UN agencies have made agreements with WFP at headquarters level so as to keep the operations [going], but this practice is kept at a low profile."
Even if a foreign exchange window remains open, however, less and less is going through it, as the handful of countries that donate the bulk of humanitarian assistance to North Korea are also closing their wallets, even for the most desperate cases.
The World Food Program, for example, has announced on its website a new and ramped up version of its current nutritional support system for malnourished mothers and children, which it says will cost $200 million over the next two years, starting in July.
The problem, according to a spokesman for U.N. Secretary General Ban Ki-moon, is that "As things stand, the agency is already making cuts to the rations it is providing, and expects all food supplies to have been exhausted by August." WFP, the spokesman says, "requires a further $61 million for its work "just to make it to the end of the year."
"The United Nations is not in the position to comment on the reasons why donors have not yet met pledges," the spokesman added in response to Fox News questions, but hopes "all pledges will eventually be received."
A spokesman for the United Nations Population Fund says that the agency, which deals in family planning, birth control and maternal health services, told Fox News that the agency was not yet affected by any cutback in donor funding, but added, "We do note that importation of medicines for instance is taking much longer than would previously be the case and this is of course affecting our operations."
The biggest and probably most significant humanitarian programs run by U.N. agencies in North Korea are funded by the private Global Fund to Fight AIDS, Malaria and Tuberculosis (GFATM), which has spent more than $51 million there on eradicating malaria and TB.
GFATM is not cutting back; it expects to spend an additional $16.2 million in North Korea by 2015. Those programs are implemented by UNICEF and the World Health Organization, and monitored by another U.N. organization, the United Nations Office for Project Services (UNOPS) for effectiveness and to prevent diversion.
George Russell is editor-at-large of Fox News and can be found on Twitter @GeorgeRussell.
Click here for more stories by George Russell.