Typhoon kills 11 in Vietnam, 26 in China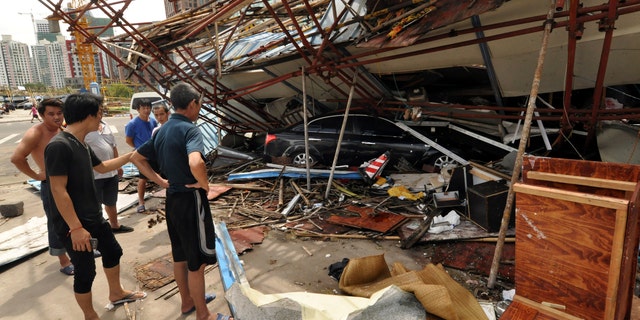 NEWYou can now listen to Fox News articles!
HANOI, Vietnam – A typhoon that barreled into northern Vietnam killed at least 11 people and left several missing, state media said Monday, while in China the death toll from the strongest storm to strike the country's south in four decades rose to 26.
Typhoon Rammasun made landfall in Vietnam over the weekend, triggering heavy floods, destroying homes and crops, and blocking roads with landslides, said the Vietnam News, an English-language daily published by the official Vietnam News Agency.
The paper's website carried photos that showed streets and local markets in the city of Lang Son and elsewhere submerged in water, with residents floating on rubber tires or rafts or huddling under makeshift tents.
Rammasun had earlier battered southern China, killing 26 people and destroying tens of thousands of homes, according to China's official Xinhua News Agency.
It was the strongest typhoon to hit China's southern region in 41 years, damaging roads and ports, cutting electricity and water supplies, and hampering rescue efforts as it swept through dozens of coastal cities.
Worst hit was the island province of Hainan, where the storm made its first landfall Friday. By Monday, 51,000 houses and 100,300 acres of crops had been destroyed.
The typhoon wreaked havoc in the northern Philippines last week, leaving 94 people dead.