Two Weeks After Last Catastrophic Storm, Atlanta Prepares For Another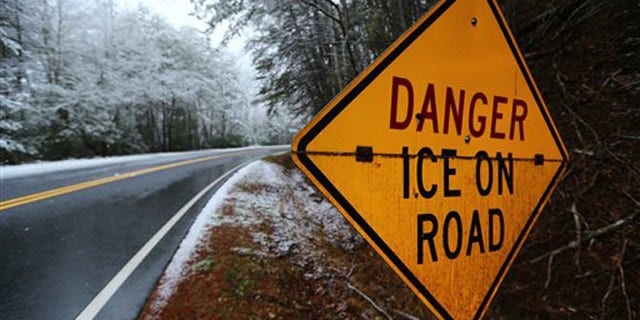 ATLANTA (AP) – Emergency management workers in the Atlanta area were preparing to spring into action as rain — and temperatures — were falling early Wednesday, potentially leading to "catastrophic" ice conditions across the region.
Already, Georgia Power was reporting thousands of power outages around the state. And forecasters and officials said the number of outages would probably grow throughout the day. In north Georgia, morning snow was falling. Other areas of the South, from Louisiana to South Carolina, and the mid-Atlantic also are expected to get socked with a wintry mix of ice, snow and freezing rain.
Atlanta and the surrounding region dodged the first punch of a dangerous winter storm Tuesday, but forecasters warned that the second punch would likely bring a thick layer of ice and heavy winds that could knock out power to thousands and leave people stranded in their cold, dark homes for days. National Weather Service forecasters used unusual dire language in warnings and memos early Wednesday, and they said that while a foot of snow could fall in some parts of Georgia, "it is the ice that will have the catastrophic impacts."
Elected leaders and emergency management officials began warning people to stay off the roads, especially after two inches of snowfall caused an icy gridlock two weeks ago and left thousands stranded in vehicles overnight. It seemed many in the region around the state's capital obliged as streets and highways were uncharacteristically unclogged Tuesday.
Georgia Gov. Nathan Deal and Atlanta Mayor Kasim Reed in a news conference at the Georgia Emergency Management Agency's special operations center Tuesday evening implored people to get somewhere safe and stay there.
"The message I really want to share is, as of midnight tonight, wherever you are, you need to plan on staying there for a while," Reed said. "The bottom line is that all of the information that we have right now suggests that we are facing an icing event that is very unusual for the metropolitan region and the state of Georgia."
The forecast drew comparisons to an ice storm in the Atlanta area in 2000 that left more than 500,000 homes and businesses without power and an epic storm in 1973 that caused an estimated 200,000 outages for several days. In 2000, damage estimates topped $35 million.
Eli Jacks, a meteorologist with National Weather Service, said forecasters use words such as "catastrophic" sparingly.
"Sometimes we want to tell them, 'Hey, listen, this warning is different. This is really extremely dangerous, and it doesn't happen very often,'" Jacks said.
The service's memo early Wednesday called the storm "an event of historical proportions."
It continues: "Catastrophic ... crippling ... paralyzing ... choose your adjective."
Jack said three-quarters of an inch of ice would be catastrophic anywhere. But the Atlanta area and other parts of the South are particularly vulnerable: Many trees and limbs hang over power lines. When ice builds up on them, limbs snap and fall, knocking out power.
More than 200 utility vehicles from Florida, North Carolina and other Southern states gathered in a parking lot near one of the grandstands at Atlanta Motor Speedway. The state had more than 22,000 tons of salt, 70,000 gallons of brine 45,000 tons of gravel and brought in 180 tons of additional salt and sand. The goal was to make sure at least two interstate lanes were available in each direction. Then material would be used on the most heavily used roads off the highways. Officials also were considering re-routing traffic in extreme circumstances.
"It's certainly going to be a challenge for us. Ice is definitely different than snow," state Transportation Commissioner Keith Golden said.
Hundreds of Georgia National Guard troops were on standby in case evacuations were needed at hospitals or nursing homes, and more than 70 shelters were set to open. President Barack Obama declared a state of emergency in Georgia, ordering federal agencies to help the state and local response during the storm. Deal said a priority for that request was generators.
Metro Atlanta, the economic engine of the South with the headquarters of Fortune 500 companies including Home Depot, UPS, Delta Air Lines and Coca-Cola, resembled a ghost town Tuesday, and it seemed that scene would repeat itself Wednesday. Schools were closed, and grocery store shelves were bare of milk and bread.
Atlanta has a painful past of being ill-equipped to deal with snowy weather. Despite officials' promises after a crippling ice storm in 2011, the Jan. 28 storm proved they still had many kinks to work out.
Like state and local officials, many commuters learned their lessons from that storm.
"Last time, I was totally unprepared. I was completely blindsided," said Lisa Nadir, of Acworth, who sat in traffic for 13 hours and then spent the night in her car when the storm hit Jan. 28. "I'm going to be prepared from now on for the rest of my life."
Nadir was telecommuting from home Tuesday and she had kitty litter in her trunk in case she needed to put it down on icy roads for extra traction.
Around the Deep South, slick roads were causing problems. In North Texas, at least four people died in traffic accidents on icy roads, including a Dallas firefighter who was knocked from an Interstate 20 ramp and fell 50 feet, according to a police report.
Also in Texas, an accident involving about 20 vehicles was reported Tuesday along an icy highway overpass in Round Rock, just north of Austin. Police dispatchers said no serious injuries were reported and the roadway was cleared by Tuesday evening.
In northeastern Alabama, two National Guard wreckers were dispatched to help clear jackknifed 18-wheelers on Interstate 65. Alabama Gov. Robert Bentley said one lesson learned from the storm two weeks ago was to get those wreckers organized earlier.
Michelle Owen, of Mount Pleasant, Tenn., was driving north on Interstate 65 when she hit an icy patch on a bridge. Her sport-utility vehicle and a trailer it was pulling fishtailed, sending her 18-year-old son Tyler through the rear window and on to the car that was atop the trailer.
"He wound up on top of the Mustang we were hauling," Owen said. He suffered only minor injuries.
Parts of northeast Mississippi could see up to 4 inches of snow. South Carolina, which hasn't seen a major ice storm in nearly a decade, could get a quarter to three-quarters of an inch of ice and as much as 8 inches of snow in some areas.
Delta canceled nearly 2,200 flights on Tuesday and Wednesday, most of them in Atlanta.
Follow us on twitter.com/foxnewslatino
Like us at facebook.com/foxnewslatino