Two killed in Honduras -- Amnesty International says Honduras a 'no-go zone' for activists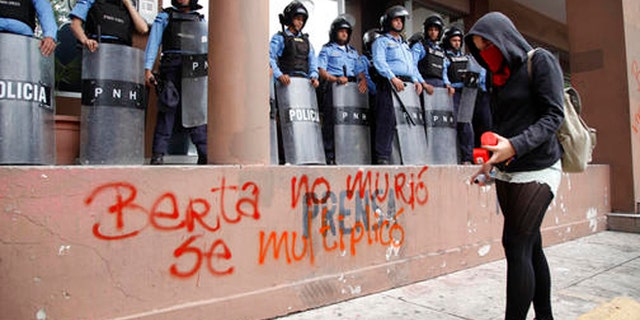 MEXICO CITY (AP) – International condemnation poured into Honduras on Wednesday over the murder of two agrarian activists the day before.
Jose Angel Flores, leader of the United Farmworkers Movement of Aguan, or MUCA by its Spanish initials, and member Silmer Dionisio George were shot in northeast Honduras after leaving a meeting in the town of Tocoa.
In recent years, MUCA has seized thousands of acres of land, much of it privately held palm oil plantations that previously had been cooperatives cultivated by the same farmworkers.
U.S. Ambassador to Honduras James Nealon condemned the killings in a statement Wednesday. He said he had offered U.S. resources to the Honduran government to help find those responsible.
"The United States of America calls for a prompt and thorough investigation and for the full force of the law to be brought to bear against those found responsible," the statement said.
The United Nations Office of the High Commissioner for Human Rights in Honduras said in a statement Wednesday that both Flores and George had been designated to receive protection by the Inter-American Commission on Human Rights since 2014. The statement also said that Flores had reported an attempt on his life in April 2015.
A spokesperson at the Honduran Interior Ministry said an official statement was being prepared, but by late Wednesday the government had still not commented.
The killings follow the murder in March of environmental activist Berta Caceres who had been awarded the Goldman Environmental Prize for her work to preserve land.
After President Manuel Zelaya was ousted in a military coup in 2009, farmworkers seized about 27,000 acres of farmland. Dozens of people have died in fighting over the occupation of the land.
In May 2010, the government and MUCA agreed to reduce the violence in the Bajo Aguan Valley. But of 11,000 hectares (27,000 acres) the government promised to restore to the farmworkers, only 4,050 hectares (10,000 acres) have been handed over, the U.N. statement said.
Amnesty International said in a statement that Honduras has become a "no-go zone" for land rights activists..
"Authorities in Honduras must take immediate action to effectively protect those who work to promote and defend the basic human rights of all in the country," said Amnesty's Americas director Erika Guevara-Rosas.
Like us on Facebook
Follow us on Twitter & Instagram