Twin bomb explosions kill four in Karachi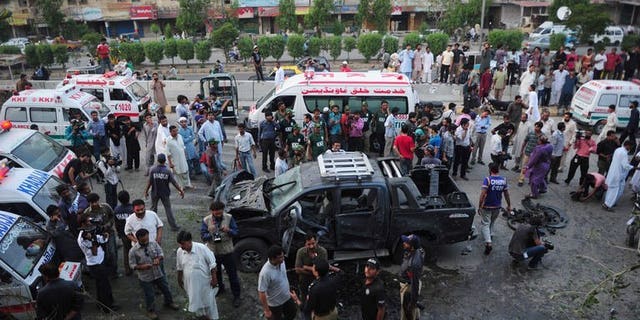 KARACHI (AFP) – Two separate bomb explosions late Saturday killed four people and wounded seven others in Pakistan's port city Karachi, police said.
The first bomb, targeting a government official, exploded in the Eesa Nagri area, killing a police officer and wounding seven people including the official, police said.
"Apparently the bomb was planted in a motorcycle. One police officer has been killed and seven people injured. Condition of some of them is critical," Nasir Lodhi, a senior police official, told AFP.
The second bomb exploded minutes later, killing three people inside a house in the Patel Parra area of the city.
Police official Safdar Mashwani told AFP that it appeared the three people were making a bomb inside the house when it exploded, killing them instantly.
"Preliminary investigations show that they were making a bomb which went off prematurely," Mashwani said.
Karachi, a city of 18 million people, contributes 42 percent of Pakistan's GDP but is rife with murder and kidnappings and has been plagued for years by ethnic, sectarian and political violence.