Turkish president's party loses parliamentary majority, faces struggle to form government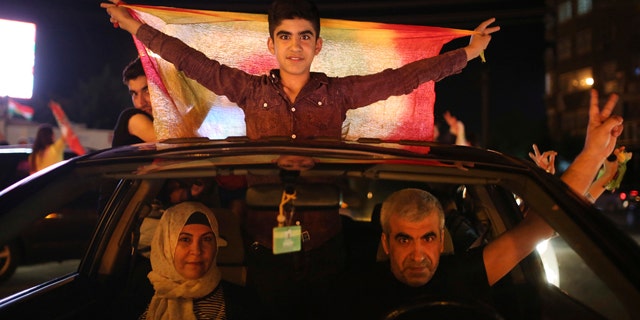 Turkey's ruling Islamic-rooted AKP party may have trouble finding the coalition partner necessary to form the next government, after voters dealt a stunning rebuke to President Recep Tayyip Erdogan Sunday, with strong losses in a national vote that stripped the party of its parliamentary majority.
Turkish voters effectively ended 13 years of one-party rule and stalled the Muslim nation's march toward Islamist control in historic elections. The democratically-elected Erdogan, through posts as prime minister and president, has held office since 2003 and had in recent years begun an alarming crackdown on the media, dissidents and ethnic minorities in what observers feared was an effort to move the NATO nation and U.S. ally toward theocratic rule.
In addition to announcing plans to expand the powers of his office, Erdogan had come under intense criticism for building a 1,000-room presidential palace, which was rumored to have gold-plated toilet seats.
"The dictator has collapsed," proclaimed the Yurt newspaper headline Monday.
Erdogan's party is now left with few options to form a new government, after it was stripped of its parliamentary majority and opposition parties ruled out joining it in a coalition pact. The Islamic-based Justice and Development Party, known as the AKP, won about 41 percent of the votes in Sunday's election and was projected to take 258 seats -- 18 below the minimum required to rule alone.
Prime Minister Ahmet Davutoglu, an Erdogan ally and fellow AKP member, convened his cabinet and party executives Monday to discuss the party's options. Davutoglu will need to choose the most likely course to remain in power, whether by coaxing a reluctant opponent to the table or by trying to rule alone in a parliament where the AKP will be outnumbered by three empowered rivals.
The election result also puts Erdogan's hopes of passing constitutional changes that would have boosted his powers on hold. He is likely to see his preeminent position in Turkish politics erode without the ability to steer the government through his party.
Erdogan, 61, appealed for national unity Monday, and for political foes to come together to safeguard what he called "the gains made from stability and environment of trust in our country."
He conceded that his party needed a partner and could not run a stable minority government, in a statement released Monday. The result, he said, "does not allow any party the possibility to govern alone" and required "a healthy and realistic assessment by all parties."
All three opposition parties have come out against a coalition with the AKP after Erdogan led a fierce and confrontational campaign in hopes of boosting the party's 327 seats, brushing aside his constitutional neutrality. Some voters were angry that Erdogan had ignored the law requiring him to be neutral.
"In a country where the president is supposed to be independent, the president was out in the field. ... He wanted to be the only one in power, and the people did not give him permission," said Istanbul resident Zeki Altay, who hoped the opposition parties would unite against the AKP.
The AKP government could remain for a few months before a new government is formed or, in event of failure, a new election is called. The official results are expected to be certified within two weeks. Once all lawmakers take their oath of office, all parties will have 45 days to negotiate a new governing alliance.
The pro-Kurdish HDP party, which dealt the AKP its biggest setback by clearing for the first time a 10-percent threshold for representation as a party in the parliament, slammed the door shut to a formal coalition or an informal pact in which it would provide a minority AKP government outside backing in parliament.
"We have promised our people that we would not form an internal or external coalition with the AKP," the party's leader, Selahattin Demirtas, said. "We are clear on that."
Turkey's main opposition party, CHP, suggested it should be given the task of forming a government.
The nationalist MHP party sounded disinclined to work with the ruling party, and suggested that Turkey could hold early general elections.
"Nobody has the right to sentence Turkey to an AKP minority government. Whenever there can be early elections, let them take place," MHP leader Devlet Bahceli said early Monday.
The government's deputy prime minister, Numan Kurtulmus, told reporters Monday he was confident that his party would form a coalition with one of the other three. He called the idea of a new election a "distant possibility."
The potential loss of a one-party government shook the confidence of investors Monday. Turkey's currency slumped 5 percent to a record low of below 2.8 lira to the U.S. dollar, the stock market in Istanbul tumbled 8 percent, and the yields on Turkish government 10-year bonds surged nearly a full point to 10 percent.
The Associated Press contributed to this report.