Turkish official approves 'standing man' protest, while police question detainees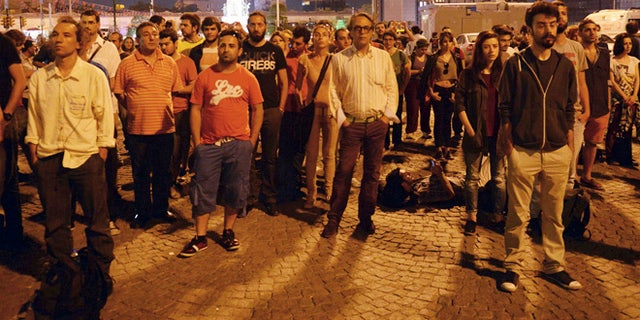 ANKARA, Turkey – Turkey's deputy prime minister gave a nod of approval to a new form of peaceful resistance that is spreading through Turkey on Wednesday as police were questioning dozens of people rounded up in police raids.
Although police dispersed pockets of protesters who set up barricades in two Turkish cities overnight, sometimes violent anti-government demonstrations have largely given way to a passive form of resistance, with people standing motionless.
Hundreds of protesters stood still for hours on squares on main streets in several cities, mimicking a lone protester who started the trend on Istanbul's Taksim Square on Monday and has been dubbed the "Standing Man."
In the first direct government comment on the new style of protest, Deputy Prime Minister Bulent Arinc told reporters that the standing protests are peaceful and "pleasing to the eye." He urged protesters, however, not to obstruct traffic and not to endanger their health.
"This is not an act of violence," Arinc said. "We cannot condemn it."
Police had dispersed hundreds of standing protesters late on Monday but are now allowing the protests to continue unhindered.
Anti-government demonstrations erupted across Turkey after May 31, when riot police brutally cracked down on peaceful environmental activists who opposed plans to remove trees and develop Gezi Park, which lies next to Istanbul's famed Taksim Square.
The protesters have expressed discontent with what they say is the gradual erosion of freedoms and secular values during Prime Minister Recep Tayyip Erdogan's 10 years in office.
The state-run Anadolu Agency said police overnight used water cannons to scatter hundreds of protesters who set up barricades in the capital Ankara and in Eskisehir, some 140 miles (230 kilometers) further west.
Police on Wednesday were questioning more than 100 people rounded up by police in Istanbul, Ankara and two other cities for alleged involvement in more violent protests, according to Turkey's Human Rights Association. More than 3,000 people have been detained and released since the protests started, it said.
More than 7,500 people have been injured and at least four people — three demonstrators and a police officer — have been killed as police tried to quell the protests using tear gas and water cannons. Authorities are investigating whether a fifth person who died was exposed to too much tear gas.
Erdogan, who has long won praise for steering Turkey toward strong economic growth and raising the country's international profile, has seen his image dented over his government's handling of the unrest.
He has blamed the protests on a plot to bring down his government — elected with 50 percent of the votes — and has constantly lashed out at foreign media and social media.
Arinc on Wednesday denied that Turkey would restrict the use of Twitter or other social media but said the government could consider enacting legislation in a bid to deter users from "inciting crime, spreading lies and disinformation."
"Social media is a part of modern life and none of us can remain outside of it," Arinc said. "But there have to be some deterrents."
Erdogan has branded Twitter the "worst menace" to society and criticized it for spreading "lies." With Turkish media devoting scant coverage to the protests when they first erupted, many had turned to social media for news of the demonstrations. Dozens of people were detained during the protests — and later released — for allegedly "inciting" people to riot through social media postings.
Erdogan's government has closed down access to Internet sites, including YouTube, in the past.