Turkish leader slams Security Council inaction In UN General Assembly speech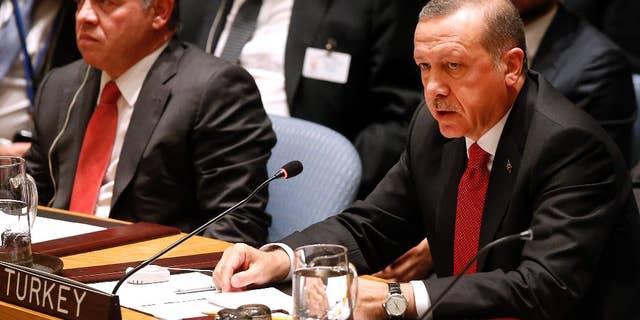 UNITED NATIONS – The president of Turkey has slammed the U.N. Security Council's inaction on some of the world's most pressing issues, accusing its members of rendering the world body ineffective.
Speaking before the General Assembly meeting in New York Wednesday, Recep Tayyip Erdogan said the U.N. has repeatedly failed to act, citing the Syrian civil war which has killed more than 200,000 people and this summer's Gaza War in which more than 2,000 people died.
He also criticized Egyptian President Abdel-Fattah el-Sissi who spoke the same podium shortly before.
He said the democratically elected President of Egypt, Islamist president Mohammed Morsi, was overthrown by a coup, and the U.N. chose to legitimize the person who conducted this coup — a reference to El-Sissi.