Turkey's Erdogan reportedly eyes extending his rule to 2029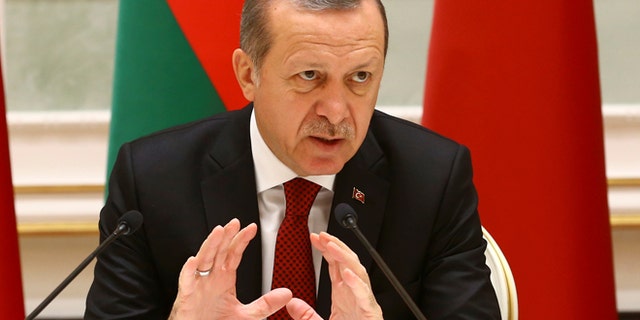 A proposal by Turkey's ruling AK Party could keep the strongman president Recep Tayyip Erdogan in power until 2029, Reuters reported Wednesday.
Under the draft proposal, the president would be able to serve up to two additional five-year terms, officials who saw the draft told Reuters. The president would have sweeping power and would not need to consult his parliament on most executive matters.
ISRAEL APPOINTS FIRST AMBASSADOR TO TURKEY SINCE GAZA SPAT
The report said the party was looking to hold a referendum next spring and was searching for support to win approval. Any constitutional change would need at least 367 out of 500 deputies in the assembly to give the OK, Reuters added.
"We will continue to seek a base for consensus with the other parties," Prime Minister Binali Yildirim told a conference of AKP provincial heads in Ankara. "After that, the decision lies with the people."
SYRIAN PRESIDENT ASSAD CLAIMS TRUMP COULD BE A 'NATURAL ALLY'
The report said Erdogan has benefited from nationalist support after the failed military coup in July, and has cracked down on dissent in big ways.
Close to 37,000 people have been arrested, more than 100,000 people dismissed or suspended from government jobs, and 170 media outlets and scores of businesses and associations have been shut down over alleged ties to a movement led by Fethullah Gulen, the Pennsylvania-based Muslim cleric whom Turkey accuses of masterminding the coup attempt.
Turkish police detained the chief editor and at least 11 senior staff of Turkey's opposition Cumhuriyet newspaper last week.
The detentions involving Cumhuriyet — one of Turkey's oldest newspapers — come amid accusations by opposition parties and human rights groups that Turkey's government is using the state of emergency imposed following a failed military coup to clamp down not only on alleged coup plotters, but on all government critics.
The Associated Press contributed to this report.