Turkey unleashing fury of airstrikes against US-backed Syrian Kurdish forces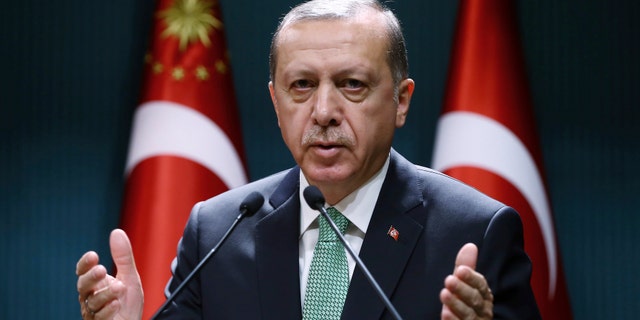 Turkish jets and artillery struck U.S.-backed Syrian Kurdish fighters in northern Syria Thursday, and Turkey's state-run news agency said as many as 200 militiamen were killed, in a major escalation of Turkey's offensive in northern Syria.
A senior commander with the main Syria Kurdish militia confirmed that Turkish jets and artillery were still attacking his forces north of Aleppo, but disputed the casualty count, saying no more than 10 fighters had been killed so far.
Further south, a humanitarian pause announced by Russia for the besieged rebel-held city of Aleppo took effect, and the Syrian military, using loudspeakers, called on residents to evacuate and for gunmen to lay down their weapons. But there was no sign of residents leaving the bombed out districts.
The bombardment was a major escalation by Turkey just as the offensive to recapture the city of Mosul from Islamic State militants in Iraq was intensifying. Iraqi Kurdish forces have carried the brunt of the fighting so far in the Mosul offensive. Turkish troops in Iraq have trained fighters involved in the Mosul offensive, which has been a source of tension with the Iraqi government in recent days.
Kurdish forces in Syria have also carried out most of the fighting against IS and made significant territorial gains, including advances in the last few days against IS militants in Aleppo province, much to Ankara's fury in recent months. Turkey, which is dealing with a homegrown Kurdish insurgency, has been trying to prevent an expansion of Kurdish influence in Syria.
Commander Mahmoud Barkhadan of the People's Protection Units told The Associated Press that Turkish tanks have been shelling the Kurdish-led forces in the area since early Wednesday. He said jets joined overnight and continue to pound his forces. He said more than 30 aerial attacks had taken place so far and that early reports suggest no more than 10 fighters were killed and 20 were wounded. There was no word on civilian casualties yet. The Britain-based Syrian Observatory for Human Rights said at least 11 Kurdish fighters were killed and four are missing following the air raids in northern Aleppo.
"We will not back down," Barkhadan said in a telephone interview from the area. He accused Turkey of aiding IS militants by diverting the fight into a Turkish-Kurdish one. "We are fighting Daesh, why are they striking at us?" he asked, using the Arabic acronym for IS.
Barkhadan, a senior commander who led the fight against IS in Kobani in 2015, said Turkish artillery also shelled an area near Afrin, a Kurdish enclave in northwestern Syria. He said his forces have not retreated from newly held territories, but that the Turkish attack allowed IS fighters to wage a counteroffensive. Clashes continued Thursday, the Observatory and Barkhadan said.
Also on Thursday, a humanitarian pause announced by Russia for the besieged rebel-held Aleppo city took effect.
The Syrian military used loudspeakers to urge residents to evacuate and for gunmen to lay down their weapons. Al-Mayadeen TV, a Beirut-based pro-Syrian channel, broadcast Thursday an hour after the pause began from near one of the designated passages. Loudspeakers blared military calls for residents to let the sick and wounded out first, and urging fighters to lay down their guns. The message: "The battle for returning Aleppo to the nation's fold is in its last phases. There is no point in continuing the fight."
Gunfire was heard in the background, and soldiers were seen ducking from bullets before buses, parked on the government-side of Aleppo city, started their engines and left.
Moscow said the pause is to allow civilians and militants safe passage out of the eastern districts of the city -- which have been subjected to a tight siege since July and a punishing bombing campaign since mid-September.
The Anadolu Agency, quoting military officials, said the raids were carried out late Wednesday night, attacking 18 targets in the Maarraat Umm Hawsh region in northern Syria. The agency claimed that 160 and 200 militia fighters were killed in the raids. The targets hit were in areas that the Syrian forces recently took over as they pressed ahead with their campaign to drive Islamic State militants from areas north of Aleppo.
The Syrian Kurdish force has been an ongoing source of tension between NATO allies Turkey and the United States.
The U.S. considers the militia group, known as the People's Protection Units or YPG, to be the most effective force in the fight against the Islamic State group in Syria. Turkey says the group is an extension of its own outlawed Kurdish militants who have carried out a series of deadly attacks in Turkey over the past year and considers it to be a terrorist organization.
Ankara has grown increasingly wary as the YPG succeeded in securing large portions of territory along the Syrian-Turkish border. In August, Turkey sent troops and tanks into northern Syria to help Syrian opposition forces drive the Islamic State group away from an area bordering Turkey, and to curb the Syrian Kurdish forces' territorial expansion.
A senior Syrian Kurdish official said the Turkish attack was an aggression on her people's aspiration for self-administration a contiguous territory in the country's north as well as a threat to the U.S-led anti-terrorism fight there.
Ilham Ahmed said Turkish maneuvering threatens a possible campaign against IS in the group's de-facto capital in Raqqa in eastern Syria. Kurdish forces are the main partner in such a fight, but Ankara recently has said it is ready to take part without Kurdish participation. She said Ankara is taking advantage of Washington's preoccupation with its elections to impose their plans in Syria, pushing back the Kurds and advancing in Aleppo.
The U.S is "asked to put a stop and take a clear and direct position regarding this Turkish aggression. Otherwise the project of combatting terrorism may be delayed or totally fail in Syria," she said speaking to The Associated Press from Sulaimaniyah, Iraq.
The Turkish attack came after Turkish President Recep Tayyip Erdogan said his country would not "wait for terrorists to come and attack" but would go after them before they have the chance to strike.
Anadolu said the 18 Syrian Kurdish targets hit included nine buildings used as headquarters, meetings points, shelters or arms depots as well as five vehicles.