Turkey President Erdogan apparently saves man from jumping off bridge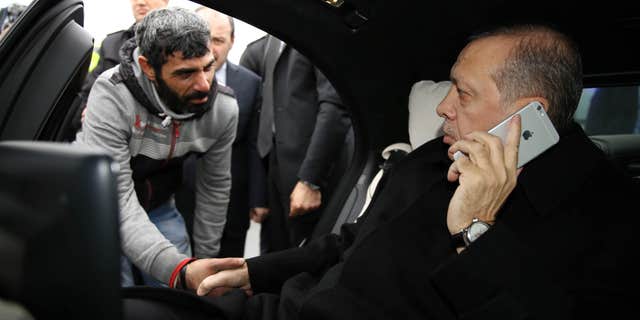 Turkish President Recep Tayyip Erdogan talked a man out of jumping off a bridge Friday, his office said.
Television footage showed Erdogan's motorcade stopping in the middle of Istanbul's Bosporus Bridge, where Vezir Cakras was apparently considering a fatal plunge into the water below. Erdogan's aides quickly told the man the president wanted to speak with him and they are seen pulling him toward the vehicle.
Erdogan, who remains on his cellphone, doesn't leave the vehicle but is seen talking with the Cakras. A Turkish official told the Associated Press the man was suffering from depression over family issues. The Dogan News Agency reported police were trying to prevent him from jumping for about two hours.
The New York Times, citing the Anadolu News Agency, reported the Cakras started to cry as soon as he saw Erdogan. The president made some calls and ordered authorities to help the man.
An official, who spoke to the Associated Press on condition of anonymity, said Erdogan promised to help him.
Several people try to commit suicide each year by jumping off the Bosporus Bridge, according to The Times.
The Associated Press contributed to this report.