Turkey appoints new army top brass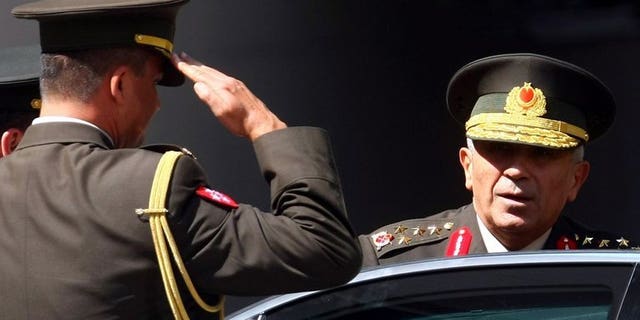 ANKARA (AFP) – Turkey's top military council on Saturday appointed new commanders in what observers said was further evidence that the government now controlled the once all-powerful army.
The Supreme Military Council chaired by Prime Minister Recep Tayyip Erdogan decided on the forced retirement of gendarmerie force commander General Bekir Kalyoncu, who had been expected to become land forces commander.
Local media reported that Erdogan blocked the promotion because Kalyoncu's name often cropped up in the trial of alleged coup plotters.
Kalyoncu's exit is considered the latest blow to Turkey's beleaguered officer corps who are the target of a series of probes launched in recent years into past military interventions and coup plots.
General Hulusi Akar was promoted to the helm of the land forces and is expected to replace current chief of staff General Necdet Ozel in 2015.
Vice-Admiral Bulent Bostanoglu was appointed as the chief of the navy and Lieutenant General Akin Ozturk as the head of the air force.
Since coming to power in 2002, Erdogan's government has reined in the powerful military, once the self-appointed guardians of the secular state who carried out four coups over half a century.
In September, more than 300 hundred active and retired army officers, including three former generals, received prison sentences of up to 20 years over a 2003 military exercise alleged to have been an undercover coup plot.
And a Turkish court is due to deliver its verdict on Monday in a separate trial of 275 people including a former army chief accused of plotting to overthrow Erdogan's government.