Turkey agrees to allow US to use air base for strikes against ISIS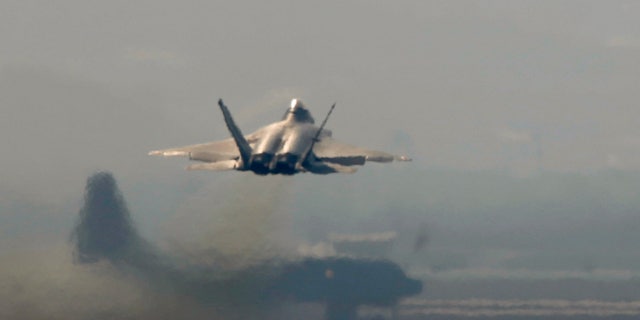 NEWYou can now listen to Fox News articles!
The United States may now launch manned and unmanned military strikes against ISIS from inside Turkey after the government there agreed to allow Washington expanded use of a key air base, a senior defense official confirmed to Fox News Thursday.
Prior U.S. airstrikes against the Islamic State have originated from aircraft carriers in the Gulf. However, Turkey has agreed to allow the U.S. expanded use of its Incirlik Air Base, located near the Turkish-Syrian border.
The U.S. military had been using the base in Turkey previously for drone missions and other support operations such as launching and recovering refueling aircraft. Military officials told The Wall Street Journal the agreement also opens up other bases in Turkey for potential use in the campaign against Islamic State.
The Defense Department released a statement Thursday night confirming that there had been discussions with Turkey about counter-ISIS efforts, but did not go into specifics about Incirlik.
"The United States and Turkey have held ongoing consultations about ways we can further our joint counter-ISIL efforts," the statement said. "We have decided to further deepen our cooperation in the fight against ISIL, our common efforts to promote security and stability in Iraq, and our work to bring about a political settlement to the conflict in Syria."
While the U.S. is planning to launch air strikes against ISIS from Turkey, the defense official who spoke to Fox News remained skeptical if Turkey would do the same and said that was the real question.
The news comes amid increasing violence along Turkey's 560-mile long border with Syria. ISIS is believed to have been behind a suicide attack on Monday that killed 32 and injured 100 mostly Kurdish activists. Kurdish militants, many of whom blame Turkey for not doing more to stop ISIS, reportedly responded by killing two Turkish police officers. A border-area gunfight erupted Thursday between suspected-ISIS extremists and Turkish police, leaving at least one dead on each side.
White House Press Secretary Josh Earnest was asked about the reported air base agreement during his Thursday briefing but also declined to discuss specifics.
President Obama spoke with Turkish President Recep Tayyip Erdogan on Wednesday night in a conversation the White House said focused on Turkey's border security.
"The two leaders discussed efforts to deepen our cooperation in the fight against ISIL," Earnest said.
Fox News' Lucas Tomlinson contributed to this report.