Tunisians hold anti-govt demo called by powerful union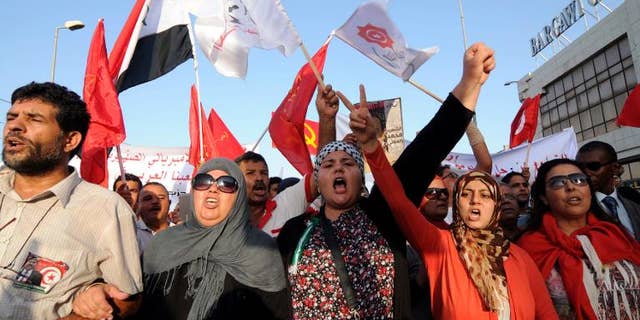 Ariana (Tunisia) (AFP) – Protesters rallied in a Tunis suburb on Wednesday at the call of the main trade union confederation, which is seeking to pressure the government into accepting a blueprint for ending the political crisis.
Dozens gathered in the Ariana district to demand the fall of the coalition government and shouted slogans hostile to the Islamist party Ennahda that leads it.
But the crowds hoped for by the UGTT, which has been leading mediation efforts to end two months of political deadlock, failed to materialise.
"The gathering is a response to the decision of the union leadership announced on Monday," Mohamed Chebbi, secretary general of the union's local office, told AFP.
The powerful confederation boasts 500,000 members and is capable of bringing the country to a standstill.
It warned on Monday that the gathering in Ariana would mark the start of a nationwide campaign of peaceful mass protests to end the crisis sparked by the July assassination of an opposition MP.
The UGTT has accused Ennahda of doing everything to ensure the failure of the roadmap, which it drafted along with the employers' organisation Utica, the Tunisian League for Human Rights and the bar association.
Ennhada rejects the charges, and accuses the largely secular opposition of distorting the mediators' proposals by demanding the government's immediate resignation.
The roadmap sets a three-week deadline for the formation of a cabinet of independents to replace the government, after the launch of a dialogue with opposition parties.
It also sets a four-week deadline for adopting a new electoral law, announcing a timetable for fresh elections and completing a long-delayed draft constitution.
On Wednesday, Ennahda reiterated "its acceptance of the initiative... and its willingness to begin immediate talks (with the opposition) on the basis of this initiative."
The opposition accuses it of not doing enough to rein in Islamist militants, whose influence has grown since the 2011 uprising that toppled veteran president Zine El Abidine Ben Ali, and of failing to improve economic conditions.