Tunisia Pushes Back Libyan Troops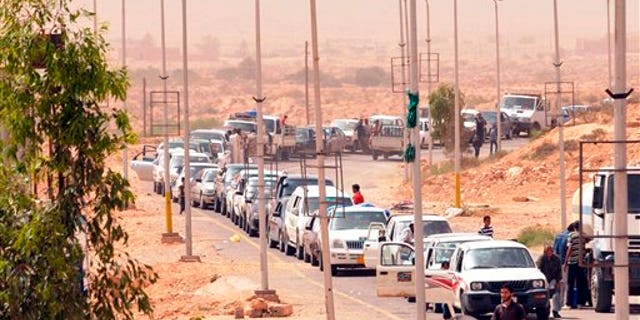 TUNIS, Tunisia – Tunisian official news reports said Sunday that the country's forces thwarted a push by 200 of Libyan leader Muammar al-Qaddafi's troops into Tunisian territory and arrested two people suspected of links to Al Qaeda.
Tensions have flared on the border in recent weeks as fighting in Libya has spilled over into Tunisia, which is struggling to restore stability after an uprising earlier this year that sparked revolts around the Arab world.
The Tunisian military sent tanks, armored vehicles and reinforcement troops to the Tataouine region on its southern border with Libya in response to the latest tensions Saturday, resident Mohamed Hedia told The Associated Press.
Tunisian army troops deployed along the border thwarted an attempt by 200 troops from Qaddafi's army to cross the border Saturday aboard some 50 off-road vehicles, the state news agency TAP reported.
The Libyans were stopped and sent back across the border to their base in Ghezaya. TAP said the Libyans had been trying to enter Tunisia in a bid to retake the strategic Dhehiba border crossing, controlled by Libyan rebels for the past few weeks.
TAP also reported that three pro-Qaddafi officers who defected landed at Tunisia's port of Zarzis on a boat Saturday.
Two people suspected of links to Al Qaeda's North African affiliate were arrested overnight, one with a belt of explosives and the other carrying a grenade, Tunisian state television reported Sunday. They were arrested in the mountains outside Remada, a town in the border region.
TAP said one was Libyan and the other Algerian.
They are suspected of belonging to Al Qaeda in the Islamic Maghreb, a group roughly based in Algeria that has staged kidnappings and attacks across a swath of northwest Africa in recent years.
Thousands of refugees from Libya have crossed into Remada and other towns in the region amid the spillover fighting from Libya.