Tunisia Moderate Islamist Party Wins First Free Elections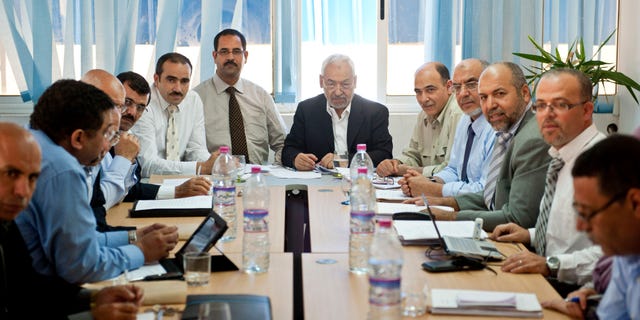 NEWYou can now listen to Fox News articles!
TUNIS, Tunisia – Tunisia's moderate Islamist party Ennahda, banned for decades, emerged the official victor in the nation's first free elections, taking 90 of 217 seats in an assembly that will write a new constitution, the electoral commission announced Thursday.
Second with 30 seats in Sunday's landmark vote was the Congress for the Republic party, founded in 2001 by noted human rights activists Moncef Marzouki, a doctor who had lived in exile in Paris.
The third-placed party in the landmark voting was the center-left Ettakatol, or the Democratic Forum for Labor and Freedoms, led by Mustapha Ben Jaafar, also a doctor. It won 21 seats in the constituent assembly.
Ennahda's leading role in fashioning a new Tunisia was evident shortly after the vote. However, electoral authorities had said they were slow in announcing full results because they were taking care with counting and verifying.
The assembly will form a government to replace interim authorities who have been in charge of this small North African nation since protests forced President Zine El Abidine Ben Ali to flee in January. He took refuge in Saudi Arabia.
The Tunisian protests inspired similar movements in other Arab countries, including successful revolutions in Egypt and Libya, now known as the Arab Spring.
Electoral authorities invalidated six lists of the party placing fourth in the voting with 19 assembly seats, Aridha-Chabia, or Popular Petition, saying there were violations, mainly concerning financing.
International observers have praised Tunisia for an exemplary election.
The path ahead remains fraught with difficulties.
Ennahda officials have promised a broad-based coalition, and vowed to wary Tunisians that democratic principles as well as gender equality will be respected in line with Muslim Tunisia's strong secular tradition.